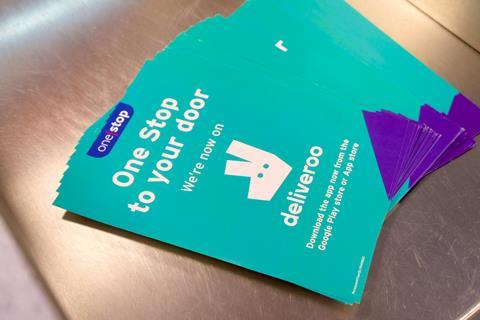 One Stop has partnered with food delivery giant Deliveroo.
Following a trial across a small number of stores in August, the service will now be rolling out to more than 200 of its company-owned shops.
Customers will be able to order on the Deliveroo app, and purchase from a range of more than 400 products, including fresh meat, soup, pasta, toothpaste and cleaning products.
'Weekend treats' including frozen pizzas, soft drinks, crisps and snacks will also be available.
It is offering a delivery time of just 20 minutes in locations such as Leamington Spa, Sussex, Berkshire and Middlesbrough.
"We're committed to making it as easy as possible for our customers to shop with us," said One Stop MD Jonny McQuarrie.
"Deliveroo proved to be the perfect partner for us during trials and it feels brilliant to be offering a new service to our loyal customers and reaching new customers with our great value and quality products."
Deliveroo VP of new business Ajay Lakhwani said: "We are delighted to partner with One Stop and launch over 200 stores on Deliveroo.
"Our on-demand partnerships have proven vital for so many people during this difficult period and this new partnership reflects the growing customer demand for groceries and convenience items. We are excited that our customers can now enjoy One Stop's great products."