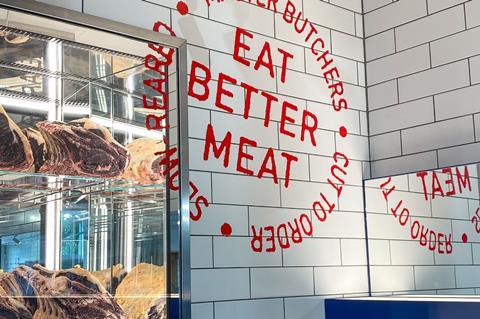 Upmarket online butcher Farmison & Co has opened its first bricks and mortar shop in Ripon, North Yorkshire.
Cut by Farmison & Co opened today (7 July) at the company's Bondgate Green head office in the city, and also acts as a click & collect point for its online orders.
Described as an experience as much as a shop, Farmison said the store was a permanent development and would act as a pilot for future concessions run by the brand in retailers both in the UK and overseas.
Open from 9am to 6pm Monday to Saturday and 9.30am-12pm on Sundays, Cut offered "a space unlike other butchers", Farmison said, and was designed to "showcase the crown jewels of Yorkshire heritage breed meat and allow customers to select from Farmison & Co's extensive online range".
The store also featured a glass wall "so shoppers can watch the master butcher at work", while customers would also be able "to take advantage of a bespoke butcher's service as well as in-store tastings and sampling of new products".
For those who preferred the traditional way of shopping and liked to browse before they buy, Cut was also open to walk-in customers, offering prepacked bestsellers, meals from its exclusive Saucepan Ready range and a pick & mix skewer service for the summer barbecue season.
"The profile of Yorkshire's meat is only growing as chefs and home cooks recognise the rich heritage of traditional husbandry around Ripon, with the pastures in the Dales and North York Moors giving the meat unique qualities – much like the principle of 'terroir' in wine," said Farmison founder and CEO John Pallagi.
"And because of the extensive range of heritage breeds that make up our online better meat offer, we reckon if you were to display it in a traditional shop, you'd have to have the longest butcher's counter in the world."
Established in 2011, Farmison specialises in sustainably-sourced heritage breeds beef, including Red Poll, Aberdeen Angus, Shorthorn, Galloway, Dexter and Sussex that allow farmers to use long-established conservation methods.
The company now employs more than 100 people in Ripon and supports up to 30 farms across Yorkshire and the north of England.
It comes as the business saw a surge in revenues last year on the back of growing pandemic-linked demand. Sales grew to £12.1m, according to accounts for the nine months to 31 December filed at Companies House.
This compared to £5.4m for the whole of 2019, while the business saw an increase in gross profit from 40.3% to 53.1% as it made a net profit for the first time since forming. However, a breakdown of the full profit figures was not available at Companies House or provided by the company.
As The Grocer reported in March, Farmison has also appointed advisors to explore future opportunities for the business, with KPMG engaged to explore strategic options, including a sale, raising investment to support growth, marketing, international expansion and operational innovation.