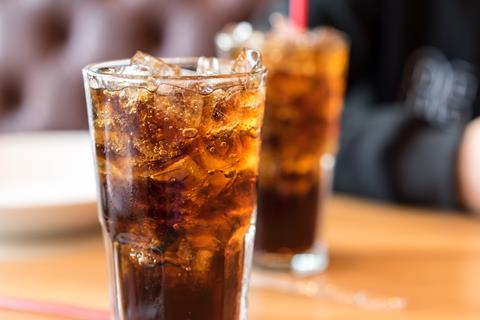 Some UK soft drinks brands have "only a few days" left of CO2, the British Soft Drinks Association has warned.
An urgent statement from the trade body said most CO2 suppliers were "not scheduling beyond 24 hours in advance, meaning there is no visibility as to UK stocks, and no certainty around deliveries".
"If soft drinks manufacturers cannot get hold of CO2 supplies after their reserves have run out, production of certain products will have to cease," said a spokesman.
The BSDA has urged the government to add the wider food and drink sector to the priority CO2 supply list "on the grounds of maintaining product supply to consumers and protecting British jobs".
"We urge the government to support the operation of UK fertiliser plants through to the end of the year to stop this issue from rearing its head at Christmas."
The British Beer & Pub Association warned brewers and the pub trade were facing issues too.
"As the threat of disruption to the availability of CO2 continues to grow, so does the potential impact on brewers and pubs", said its CEO Emma McClarkin.
"We continue to liaise with suppliers and are urging the government to support those manufacturing processes we depend on for the majority of our CO2 to resume operations."
However, she stressed: "Brewers have resilient supply chains and beer drinkers and pub goers can rest assured there is still plenty of beer to go round."
Theakston Brewery joint MD Richard Bradbury said it was "difficult to make any predictions as the shortage has only become prominent over the last weekend".
"As it stands, we are not aware of the CO2 shortage causing any supply issues for others, but of course it has the potential to do so, as it did in the summer of 2018. If the shortage continues, the government is likely to prioritise supply, ensuring that the available gas goes to nuclear power plants, hospitals and abattoirs ahead of food and drink suppliers."
However, he added: "In 2018, we were able to maintain supply and we believe we would be able to, should we be affected again. Cask beer would be unaffected by the CO2 supply issues, so could stand to benefit in this regard."
Some brewers – such as Stella Artois owner Budweiser Brewing Group – are less exposed to CO2 shortages because of CO2 recovery systems in their breweries.
A Budweiser spokeswoman said the brewer was "working closely with our suppliers, the government and industry to fully understand the CO2 situation in the market".
"We are fortunate that we have invested in CO2 recovery systems at our breweries so we can continue to brew our beers. To supplement this, we are also looking into securing ongoing supply from alternative suppliers both within the UK and throughout our European business. We are currently brewing beers at our three UK breweries and doing everything we can to ensure continuity of supply."
Last week The Grocer reported that coming shortages could "dwarf" 2018's CO2 crisis, thanks to soaring natural gas and wholesale energy costs being compounded by a fire in Kent, which damaged a key power line between the UK and France.
The National Grid warned this would significantly tighten electricity supply across its network until at least mid-October. This in turn spurred fertiliser manufacturer CF Industries to halt operations at its plants at Ince in Cheshire and Billingham in Teesside this week, with no indication of when it intended to reopen them.
As much as 60% of the UK's industrial CO2 needs were met by the supplier, British Poultry Council CEO Richard Griffiths warned last week. The meat sector is a key consumer of the gas across a swathe of processes such as stunning animals and cooling meat, as well as in modified atmosphere packaging used to prolong shelf life.