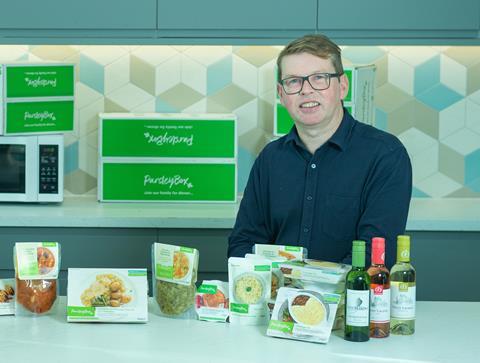 Parsley Box CEO Kevin Dorren is confident about the long-term viability of the DTC model in the face of investor scepticism.
Shares in the business, which delivers ambient ready meals to the over-60s, slumped as much as 20% on Monday after it reported falling levels of orders from new customers as shopping behaviour normalised with the gradual easing of lockdown restrictions.
Dorren told The Grocer a slowdown in growth was inevitable after a 411% rise in first-half revenues to more than £14m in the period ended 30 June compared to pre-pandemic levels from 2019. Active customer numbers also jumped 76% year-on-year to 177,174 – and up from 28,176 on June 2019 levels.
However, orders from new customers in the half fell 17% and average order value for new customers declined 3.5% to £22.98.
"The first lockdown in March 2020 wasn't a normal period," Dorren said. "We turned the marketing tap off and were still getting new customers knocking on the door as supermarkets were empty and people were scared to leave their houses.
"There will be few businesses able to maintain year-on-year growth numbers on roughly the same average order value for new customers.
"Growing at that pace put a lot of strain on the business and when you return to what would be classified a more normal period in 2021 investors can't quite get their head round why we are not growing at the same level."
Parsley Box's share price is now almost 35% lower at 131p than March's 200p flotation price, following a drop of 16% on Monday and a further 7.7% fall today.
AJ Bell investment director Russ Mould said the Parsley Box was finding new customer recruitment harder as Covid restrictions eased, which led to analysts slashing their earnings forecasts.
"If people are able and confident enough to get out and about, why use someone like Parsley Box when mainstream supermarkets offer plenty of choice at arguably cheaper prices?" he added.
The Parsley Box board insisted in Monday's first-half trading update that any slowdown in growth was temporary and they remained confident the accelerated shift in consumer behaviour towards the DTC model was permanent.
In contrast to new customer figures, orders from repeat customers increased 38% to 256,089 and average order value rose 7.6% to £43.30 in the six months to 30 June.
Dorren said these figures should have dispelled the myth shopping would return to normal when restrictions were removed.
"Historically, our customers still bought from supermarkets anyway," he added. "It wasn't like they exclusively bought products from us, substituting going to a retailer.
Parsley Box expects second-half revenue growth to be "substantially" ahead of the first six months of the year, driven by a pipeline of product innovation set for launch.
"It is a marathon and not a sprint," Dorren said. "There were sceptics leading up to IPO on our growth trajectory and we just need to keep showing them continued progression.
"One of the reasons we went public was to have a slightly longer-term vision. Yes, we need to think about trading updates, and keeping investors informed and market dynamics, but we do need to remain true to the long-term vision of the business rather than just purely short-term day trading movements."