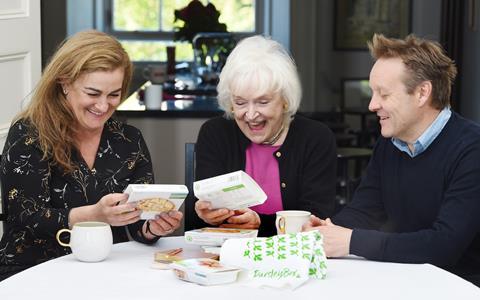 Parsley Box is confident new consumer habits picked up in lockdown are here to stay as the DTC ready meal maker sets out its ambitions to become a household brand with an upcoming IPO.
CEO Kevin Dorren told The Grocer investors were responding positively to long-terms plans to grow the customer base and take advantage of the acceleration of ecommerce adoption by the baby boomer generation.
The Edinburgh-headquartered business makes long-life ambient ready meals for the over-60s market, with a menu of more than 60 meals, including cottage pie, lamb hotpot and lasagne, as well as a range of desserts, cakes, wines and spirits, all delivered in single-serve portions.
Parsley Box has grown rapidly since Gordon and Adrienne MacAulay founded the company in 2017. Revenues have tripled over the past three years to £24.4m in 2020, with 900,000 products delivered per month to an 154,000-strong active customer base.
Its admission to the AIM junior market of the London Stock Exchange at the end of the month is expected to value the business at about £80m, with its customers being given the chance to become shareholders alongside institutional investors.
Like Virgin Wines, which floated last month, meal kit providers such as Gousto and Mindful Chef and delivery services such as Deliveroo and Just Eat, Parsley Box has benefitted from consumers turning to online providers for meals throughout the Covid pandemic.
However, Dorren, who joined as CEO in 2020, pointed out the brand's growing and wealthy demographic insulates the company from the danger hanging over DTC peers of habits reverting to normal as society reopen.
"There is no likely change in behaviour affecting Parsley Box as society gets ready to go back to some form of normality," he said. "For our customers, normality is being at home.
"We are a little more protected from those headwinds compared to other DTC businesses."
He added the baby boomer demographic was also "massively underserved".
"You can name a handful of meal kit companies that all target the same demographic, which makes it very competitive. You can only really name one or two in our age range. We have brought a fresher, newer model to this demographic, so we are very excited about the long-term journey."
Parsley Box, which is backed by VC firm Mobeus Equity Partners following a £4.6m investment in 2019, raised £5.2m in fresh capital from existing and new investors in January.
Dorren said a flotation gave the business more flexibility and the ability to think longer term than a potential private sale or further PE investment.
"We believe we are just at the beginning of the journey," he added, "and we have a strong ten-year vision for the business. Most PE cycles are three to five years, so a float allows us to lay the groundwork for a longer-term strategy."
He said: "We are going to be very well capitalised after the IPO, so our fundamental goal is to become a household name and grow our customer base, as well as broaden our offering and become the trusted brand for this demographic."