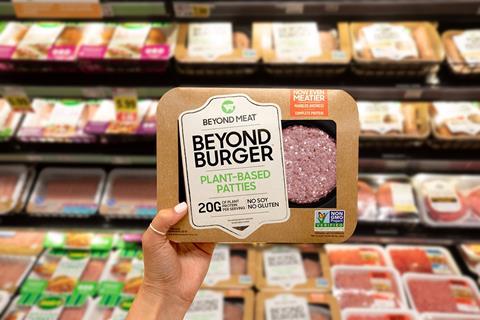 PepsiCo has teamed with Beyond Meat to take advantage of the booming meat alternatives market and develop a host of new plant-based snacks and drinks.
The joint venture will be managed through a new company called The Planet Partnership and will leverage Beyond Meat's technology in plant protein and PepsiCo's expertise in marketing and commercial scale.
Shares in Beyond Meat soared 26% on the back of the news to reach the $200 price range not seen since November when the stock collapsed following a disappointing third-quarter performance.
"Plant-based proteins represent an exciting growth opportunity for us, a new frontier in our efforts to build a more sustainable food system and be a positive force for people and the planet, while meeting consumer demand for an expanded portfolio of more nutritious products," said Ram Krishnan, PepsiCo global chief commercial officer.
"Beyond Meat is a cutting-edge innovator in this rapidly growing category, and we look forward to combining their unparalleled expertise with our world-class capabilities in brand-building, consumer insights and distribution to deliver exciting new options."
The new joint venture follows longstanding efforts by PepsiCo to diversify its portfolio of brands as consumers across the world moved away from unhealthy snacks and fizzy drinks towards more sustainable, ethical and healthier products.
"We look forward to together unlocking new categories and product lines that will inspire positive choices for both people and planet," Beyond Meat founder and CEO Ethan Brown added.
"PepsiCo represents the ideal partner for us in this exciting endeavour, one of global reach and importance."
The financial terms of the jv are undisclosed.