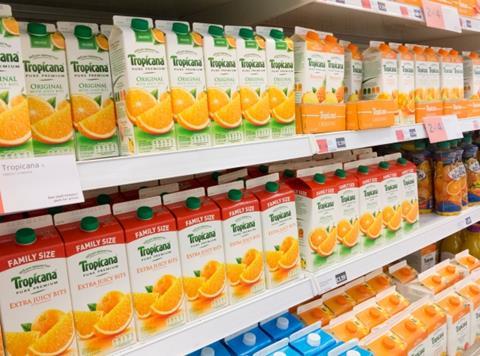 PepsiCo has agreed to sell a majority stake in number of its North American juice brands to French PE firm PAI Partners for $3.3bn (£2.4bn).
PAI will take a 61% holding in the likes of Tropicana and Naked, as well as other brands, with PepsiCo retaining a 39% non-controlling interest in a newly formed joint venture.
The investment group also has an "irrevocable option" to buy "certain" PepsiCo juice businesses in Europe.
PepsiCo will hold on to the exclusive US distribution rights to the portfolio of brands in the new JV controlled by PAI for the chilled direct store delivery to small-format and foodservice channels.
The fmcg giant picked up Tropicana for $3.3bn back in 1998 and added Naked to the juice portfolio in 2007.
"This joint venture with PAI enables us to realise significant upfront value, whilst providing the focus and resources necessary to drive additional long-term growth for these beloved brands," said PepsiCo chairman and CEO Ramon Laguarta.
"In addition, it will free us to concentrate on our current portfolio of diverse offerings, including growing our portfolio of healthier snacks, zero-calorie beverages, and products like SodaStream which are focused on being better for people and the planet."
PAI is an active investor in the food and drink industry, holding a number of assets in the sector in its current portfolio, including soft drinks bottler Refresco and ice cream maker Froneri.
It struck a deal with Nestlé in 2016 to merge the Swiss group's European ice cream business with PAI-owned R&R to create Froneri, which subsequently acquired Nestlé's US ice cream business for $4bn in 2019.
More recently, PAI unveiled an ambition simultaneous acquisition of Addo Food Group and Winterbotham Darby to create a new chilled foods platform.
PAI managing partner Frédéric Stévenin said: "We are delighted to bring these storied beverage brands into the PAI portfolio through another partnership with a leading global food and beverage company.
"We believe there is great growth potential to be realised through investments in product innovation, expansion into adjacent categories, and enhanced scale in branded juice drinks and other chilled categories.
"We are also thrilled that PepsiCo will remain involved as our partner in the joint venture as we execute our plans to drive the future success of these brands."
The juice businesses included in the deal generated about $3bn in revenues in 2020.
PepsiCo plans to use the proceeds from the sale of the assets to strengthen its balance sheet and to make organic investments in the business.
The transaction is expected to close in late 2021 or early 2022, subject to customary conditions, including works council consultations and regulatory approvals.