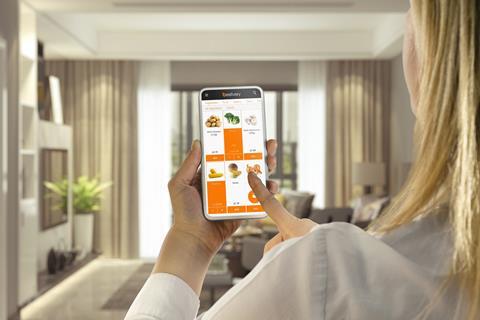 Personal shopper app Beelivery is to mount a multimillion-pound marketing drive later this year, which will include a TV advertising campaign.
To steer the marketing push – which the company expects to acquire 450,000 customers with in the next 18 months – Beelivery last month appointed Lindsay Ball as marketing director. Ball has previously served in CMO roles at Greggs, Boots, Domino's and Pizza Hut.
Beelivery's model sees customers order baskets of a range of generically labelled and branded products – covering fresh and frozen staples, pantry items, snacks, alcohol, and cleaning products – on its app or website, which are picked from stores by the nearest available Beelivery drivers and delivered within 60 minutes. Customers can also opt for slower, bigger-basket, same-day deliveries for a lower per item price. Delivery in each case costs £3.50, with a £12 minimum spend for rapid deliveries, and £50 for same-day.
The company has done minimal marketing since its launch in 2017, relying on word of mouth recommendations. Despite that, it saw sales increase by nearly 600% last year.
"It's a brand new market. We're not grocers in the traditional sense but we've got to fight against the millions and millions of pounds someone like Tesco invests, but nor are we just a logistics delivery house. We're a new niche so we're developing a brand to occupy that space," Ball told The Grocer.
The company secured £2m in funding in December and expects further investment in coming months. As well as the major marketing drive, the funding will be spent on technology and driver training.
In preparation for the expected flood of new customers following the marketing drive, Beelivery has been building a network of personal shoppers, this month totalling 50,000. Some 20,000 were added in the last months of 2020. Typically, drivers double as couriers for food delivery platforms or as taxi-app drivers.
The scale of the network allows Beelivery to reach underserved rural villages and smaller towns, it says, claiming a broader geographical reach than Ocado or Sainsbury's.
As well as building out it's driver network, Beelivery has been recruiting into its leadership team, with a COO and CFO coming aboard in recent months, and a chief people officer to be appointed in the next few weeks.
The company has 25 staff currently and will "double or triple the size of the team" this year, says chairman and co-founder Yazan Bin Mohammad.
"We continue to be focused on further growth, cementing our current position and building upon it," Bin Mohammad said.
Ball said there had been a number of fmcg brands "knocking on our door". The company will soon release a promotional calendar and options for in-app promos to brands.
The company is confident usage levels of its app will continue to grow post-pandemic.
"Not long ago people were saying rapid delivery is a flash in the pan. They were wrong. We expect it to remain popular. It's human nature that once we get used to something it's hard to change back. People have been shopping online for over a year now: This habit won't change," Bin Mohammad said.