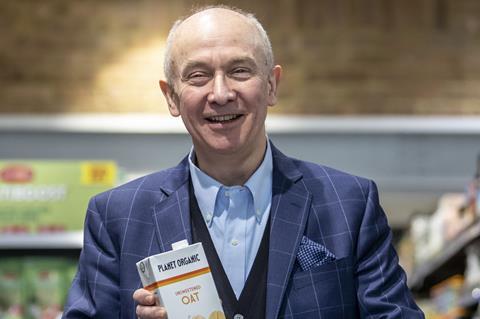 Planet Organic has kicked off a search for a new CEO with Peter Marsh planning to retire later this year.
Marsh has led the organic grocer for 13 years, in which time it has grown from five to 11 stores, including four from its acquisition of As Nature Intended in March 2020. Planet Organic will also open another new store in Bermondsey in September.
Marsh said he would remain as CEO until his successor has joined the business.
"The Planet Organic ethos of healthy and sustainable food that 25 years ago was considered a bit quirky has become mainstream," he said.
"There is nowhere else in the UK where you can get so many products from fresh food, supplements and body care to our organic meals to go, all chosen so our customers can lead healthier lives.
"We have become industry leaders in plastic-free packaging, using almost exclusively recyclable and compostable materials. We buy ethically and boast zero edible food waste. That our ethos here has now become something for other retailers to aim for is perhaps our best achievement.
"This is the right time for me to leave Planet Organic and also the right time for Planet Organic to bring in a new CEO."
Planet Organic chair Ben Thomson said: "Peter epitomises all the best values of Planet Organic. He has championed organic food and other products that keep us healthy; he has believed in sustainable packaging and unpackaged solutions which are good for our planet; and he has understood the community here at Planet Organic, from the customers to our team across the 11 stores.
"Peter has calmly steered us through this unprecedented pandemic, as well as Brexit and the day-to-day issues that are in the nature of running a supermarket chain. The board and employees express huge gratitude for all he has done.
"His successor has much to live up to but will join a business at a time of ongoing growth and with a clear strategy to be right at the centre of healthy and sustainable food and products in the UK."