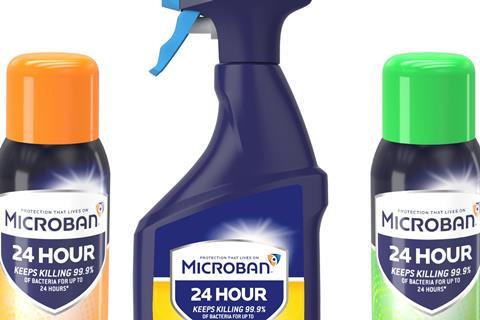 Procter & Gamble has capitalised on the house cleaning boom with the launch of Microban, a disinfectant brand promising 24-hour protection from viruses and bacteria.
Multi-Purpose Cleaner, Bathroom Cleaner (rsp: £4) and Disinfectant Spray (rsp: £5) are available in Fresh Scent and Citrus Scent variants. They are designed for use on hard, non-porous, non-food-contact surfaces, such as door handles and desktops. "These high-touch areas are in constant use and are the perfect environment for viruses and bacteria to spread," said P&G.
Available from today (22 February), the new cleaning products destroyed "99.9% of bacteria and select viruses, including Covid-19", P&G added. It would then continue "to kill bacteria for up to 24 hours even after multiple touches".
The science behind Microban was "a powerful formula that combines active antibacterial ingredients to create multi-layered protection on surfaces" the supplier said. "As a result, the antibacterial actives stay on the surface for up to 24 hours, so they keep killing bacteria even with multiple contacts throughout the day."
Microban was P&G's "most significant launch in the UK for over a decade", claimed the household giant's home care brand director, Pâris Kallintzis. "The key product benefit around 24-hour residual protection from bacteria is one that we consider to be industry leading and a disrupter to the category."
Each year, P&G invested £1.2bn in R&D "to ensure we develop superior and effective products that protect consumers' homes from bacteria and viruses", Kallintzis added. "Nearly half of consumers believed they already have residual protection from their cleaning products – when for most household cleaners, this isn't the case."
Microban is available from major retailers nationwide, including Asda, Sainsbury's, Morrisons, Waitrose, Co-op and Wilko.
Its launch comes after Brits spent an extra £117.9m on surface care products in UK grocery, as they strived to keep their homes free from coronavirus [Nielsen 52 w/e 5 September 2020]. The market is worth £446.1m, with unit sales up by 21.4%.

Normal 0 false false false EN-GB X-NONE X-NONE


/* Style Definitions */ table.MsoNormalTable {mso-style-name:"Table Normal"; mso-tstyle-rowband-size:0; mso-tstyle-colband-size:0; mso-style-noshow:yes; mso-style-priority:99; mso-style-parent:""; mso-padding-alt:0cm 5.4pt 0cm 5.4pt; mso-para-margin-top:0cm; mso-para-margin-right:0cm; mso-para-margin-bottom:8.0pt; mso-para-margin-left:0cm; line-height:107%; mso-pagination:widow-orphan; font-size:11.0pt; font-family:"Calibri",sans-serif; mso-ascii-font-family:Calibri; mso-ascii-theme-font:minor-latin; mso-hansi-font-family:Calibri; mso-hansi-theme-font:minor-latin; mso-bidi-font-family:"Times New Roman"; mso-bidi-theme-font:minor-bidi; mso-fareast-language:EN-US;}