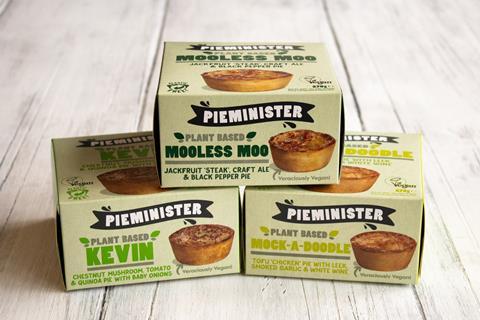 Pieminister has set out its intention to become a B Corp.
The plans come after a slew of sustainability moves, such as switching up its packs to remove plastic windows, upping its animal welfare standards by "helping our free-range chicken farmers move over to slow-growing breeds by early 2022", and ramping up its plant-based NPD.
"We believe we are the most sustainable pie company," said the brand's head of comms Romany Simon. "When the first lockdown hit it gave us some time to think and we decided to consolidate all the things we were doing to make it clear and easy to communicate, externally and internally.
"We were planning to go for it next year but we realised we're ready now. We've been looking at all our targets against Courtauld and UN sustainability goals."
The brand was "really encouraged to see that Ocado are planning to have a whole area dedicated to B Corps", she added. "That news went round the office and felt like such validation of what we're doing."
On its plans for more plant-based pies, she said: "When we talk to vegans, they don't want meat replacements, but when we talk to carnivores they're interested in things that are alternatives to meat, so we're doing a bit of both."
Its next launch will be an 'Evergreen' pie, due to launch in April, with ingredients such as kale and edamame.
"We still very much make beef pies and we're not going to stop, but we do believe as a non-vegan brand we need to be giving people alternatives. We're in a position to lure people over to plant-based who might otherwise shy away."