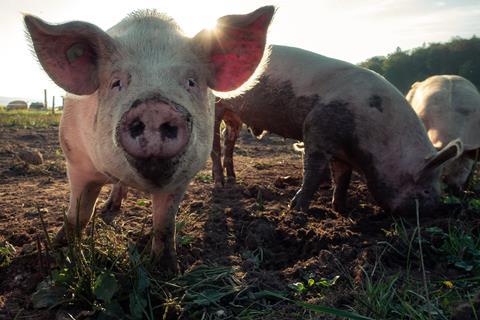 The National Pig Association has called for government support amid a supply chain crisis caused by Brexit and Covid-19.
In a letter to environment secretary George Eustice sent last week, the trade body's chairman Richard Lister wrote that the two issues had combined to form a "perfect storm" of higher costs, falling prices and a dwindling market.
Specific issues included the continued backlog of unprocessed pigs, export difficulties and an influx of "vast quantities" of cheap EU pork, he said. This had contributed to the UK pig price falling 12% year on year despite an 8.3% boost to retail channel volumes over the past 12 months.
Lister explained the problems presented a "serious threat" to the industry and could "rapidly turn into a crisis" for NPA members, most of whom expected to post losses in Q1 of 2021.
He urged Defra to step in to mediate between producers, processors and retailers, as the pig sector was unable to resolve the issues by itself.
"The pig sector has always tried to manage its own challenges and we would far rather do the same in this instance than come to government looking for financial support," the letter read.
"We have already tried to seek solutions within the supply chain, but due to the vast quantities of cheap EU pork finding its way to the UK and both processors and retailers unwilling to assist, we find ourselves at an impasse and we would be grateful for your assistance."
It comes after a spate of Covid cases at pig processing plants, coupled with related export delays and a surge in demand ahead of Christmas, led to a weekly backlog of at least 40,000 pigs on farms across the UK in December.
The NPA said this figure had now risen to an estimated 100,000 pigs, with deadweights routinely coming in 10kg above what they should be as animals remained on farms for longer.
It claimed this situation had seen producers being financially penalised as the heavier pigs were outside specifications.
An example of this came last August, when the closure of Cranswick's processing plant in Ballymena, Northern Ireland due to a Covid-19 outbreak not only saw farmers face penalties for overweight pigs but also saw them temporarily lose the lucrative Chinese export market.
Last week, the Northern Ireland Executive launched a £2.2m support fund for farms which had incurred "significant losses" because of the outbreak.
Ulster Farmers Union welcomed the move, which it said would "provide essential support" and "help sustain farm businesses".
It was the latest agri-food sector support package from the devolved administration, with 11,300 Northern Irish farmers and growers said by Stormont to have received almost £19m to offset the losses incurred as a result of the pandemic's impact on the sector over the past year.