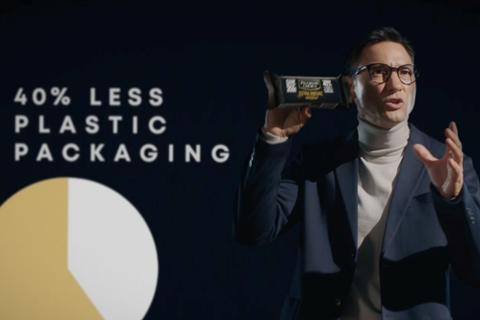 Pilgrims Choice owner Ornua Foods UK has reported "strong" financial results for the year to 26 December 2020, with revenues climbing by 16.1% and pre-tax profits growing by 26.8%.
The UK arm of Irish dairy co-op Ornua, which also distributes Kerrygold in the UK and supplies own-label cheese to Tesco and Sainsbury's, saw revenues climb by £57m to £411m, according to its latest annual report and accounts.
Pre-tax profits, meanwhile, jumped by £1.1m to £5.2m. This reflected "strong underlying business growth", with the results achieved despite the backdrop of a "complex trading environment dominated by the global pandemic and Brexit", Ornua said.
Revenues were buoyed by "favourable" commodity price movements, based on a strengthening in the wholesale price of cheese, and a rise in consumption from locked-down shoppers, it added.
Ornua's branded and own-label portfolio of cheese and butter benefited from "the change in consumer behaviour with lockdowns giving rise to a renaissance in home cooking as consumers – with an increased focus on health and wellbeing – navigated towards natural, nutritious foods from brands they could trust", it said.
But despite the increase in pre-tax profits, the supplier's performance was still below its 2018 figure of £6.8m, as it cited the impact on its bottom line of an increase in costs. This was driven by Covid-19 safety measures across its operations and increased consumer demand with extended operating times, it added.
"The key fundamentals of our business, namely great people, products, and partners, came to the fore as we all worked together to keep high-quality food on supermarket shelves across Britain," said Ornua Foods UK MD Bill Hunter.
"I'm pleased to be able to report that, thanks to the hard work and commitment of our staff, allied with the close collaboration and support of our customers and supply partners, we were able to meet the surge in demand in retail while maintaining our customer service, product quality, and availability levels throughout."
2020 saw the business invest heavily in the marketing of Kerrygold and Pilgrims Choice. Ornua also introduced the Megablock – a new packaging solution, which saved 40% of plastic per pack across the cheese brand and via Tesco's own-label cheese range.
Elsewhere, the supplier invested in new cutting and packing equipment at its facility in Leek, including the installation of an additional high-speed cheese slicing line and further expansion of its cheese grating capabilities, delivering an additional 7,000 tonnes of capacity to bring total annual production to over 110,000 tonnes.
It comes as Ornua this week launched a new multichannel advert for the Megablock, which apes hi-tech product launches to highlight its reduction in plastic usage.
The £1.5m 'Positive Choices Campaign' appears across ITV, Channel 4 and Sky, and will be complemented by a creative social media and PR campaign, influencer endorsements and in-store point of sale activity.
Pilgrims Choice is also embarking on a sampling roadshow to promote the campaign across seven sites (Leeds, Manchester, Birmingham, London north & west, London south & east, Cardiff and Brighton) in August and into September.
"Since the introduction ten months ago of the Megablock pack, we have already saved some 80 tonnes of plastic packaging," Bill Hunter said. "Our latest campaign focuses on highlighting that Pilgrims Choice and the Megablock format is a win-win for consumers as they deliver both 'a world full of flavour and less plastic'."