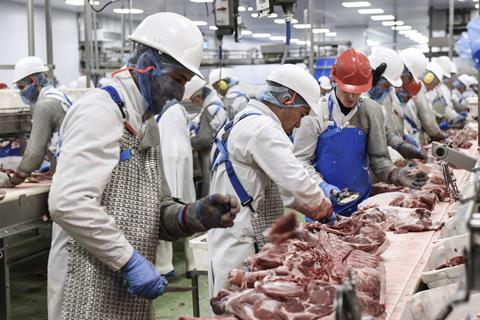 US meat giant Pilgrim's Pride has completed a turnaround of the former Tulip, with the pork supplier bouncing back into the black for the first time in several years, according to newly filed accounts.
The company rebranded as Pilgrim's UK last August following its £290m takeover by the JBS-owned group in 2019.
Tulip had made heavy losses for four years in a row under previous owner Danish Crown as it struggled to battle volatility in the pork market alongside the loss of major supermarket contracts. Hundreds of jobs were lost as Danish Crown launched a cost-cutting programme in 2018.
In the first full year under Pilgrim's ownership, the UK business returned to a profit thanks to an acceleration of the turnaround plan started by Danish Crown.
Pilgrim's introduced strategic reforms, which have included rebalancing the number and type of pigs owned and processed by the business, and restructuring operations, including a double-digit percentage reduction in headcount and the closure of unprofitable sites.
The management team also brought in measures to reconnect different areas of the business and ensure increased synergies and efficiencies.
Operating profits before exceptional items totalled £10.3m in the 15 months ended 31 December 2020, compared with losses of £17m in 2019, £38m in 2018, £36m in 2017 and £22m in 2016.
The improvement in performance was driven by "robust demand" in the retail channel as consumer demand in supermarkets boomed during the pandemic, partially offset by reduction in foodservice, while pork exports, especially to China, continued to be strong.
Pilgrim's UK generated revenues of £1.3bn in the 15-month period, up from £1.1bn in the 12 months ended 30 September 2019, with the new owners adjusting the financial year end to fit the calendar year. On an annualised basis, turnover was slightly down on the prior year.
The strategic reforms have left the business "well placed" for ongoing growth, but the sector continued to face a number of major challenges in 2021, the group said.
Pilgrim's UK CEO Andrew Cracknell added: "The steps we've taken to restructure and refocus the business have given us a strong foundation to navigate the significant headwinds currently facing the sector, and deliver ongoing and sustainable growth."