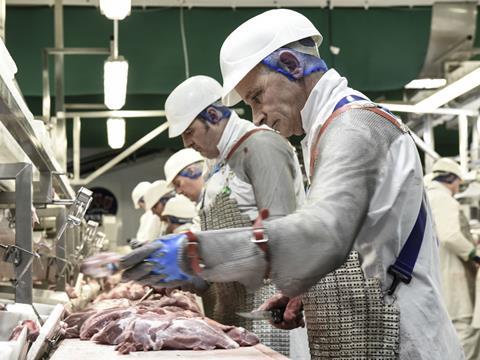 The viability of Pilgrim's UK's pork processing site at Ashton-under-Lyne is in question after it was forced to reduce operating hours and furlough staff due to the ongoing disagreement between the UK and China over export licences.
The pork giant formerly known as Tulip introduced a three-day working week from Monday to Wednesday, for about 100 staff in its abattoir section at the plant on 12 April. Affected workers have been placed on furlough for the remaining two days per week.
Pilgrim's said it had "no option" but to take action, due to the ongoing delay in reinstating the site's export licence to China, after the business voluntarily suspended exports last October due to a number of positive Covid-19 tests at the site.
Despite a subsequent clean bill of health from PHE and local health authorities in early December, its China export licence remains withheld amid mounting political tensions between the UK and China
As a result, the Greater Manchester-based site – which employs a total of 600 staff and is one of three in the Pilgrim's network to slaughter and butcher pigs – had seen profitability "significantly impacted", said the supplier.
"The current situation is financially unsustainable and could put at risk the site and its 600 employees," it added.
The move follows the temporary closure of pork farming co-op QPL's plant in Brechin – of which Pilgrim's is the sole customer – in January, for similar reasons.
The processor said a limited number of team members had been offered alternative roles within Ashton's butchery department where core skills were transferrable. The rest of the site team remained "unaffected at this moment in time and all customer orders continue to be fulfilled".
But without resolution to what had become an increasingly complex spat between the UK and China over a number of geopolitical issues, the Ashton site's long-term future could be under threat, a Pilgrim's spokesman told The Grocer.
"While we do not take this action lightly, these measures are absolutely necessary in order to prevent redundancies and protect jobs," he said.
"The delay in reinstating our export licence with China has had a significant impact on site profitability and without action the commercial viability of the site is under threat," he added.
"We are working closely with the government and relevant authorities to have the export licence with China reinstated without further delay, and once this is achieved, we will look to return to previous shift patterns."
The disruption to Pilgrim's export business to China comes amid mounting concerns over the wider pork sector due to Brexit and coronavirus-linked challenges.
As The Grocer reported earlier this year, many producers were forced to halt exports to the EU over border disruption and the flooding of the European market, due to a Chinese export ban on German pork linked to an African swine fever outbreak last year.
The Grocer also reported last week that some supermarkets had come under fire from the National Pig Association for a perceived lack of support for UK pork suppliers after AHDB research showed UK pork facings fell in March. However, there may also be better news on the horizon amid an opening up of the Philippine market for UK exporters.