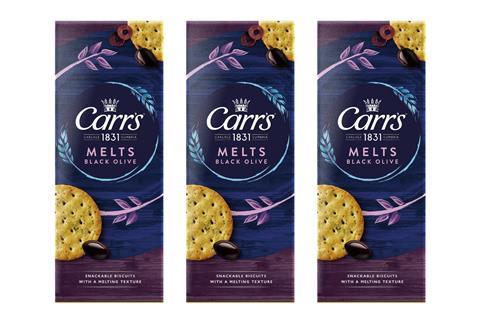 Pladis is relaunching its Carr's brand with a £1m redesign and a shakeup of its range.
The redesign features a new logo playing up Carr's Cumbrian heritage. It is the first new look for the Carr's brand in nearly a decade.
It has also given its range a rejig, launching a new Carr's Black Olive Melts SKU, as well as the addition of Crispbreads, Flatbreads and Ciabatta.
The Black Olive Melts join Carr's existing Melts range, which includes Original and Cheese flavours.
Billed as "deliciously crisp wheaten biscuits", they are available now at all major grocery retailers, as well as in convenience and wholesale (rsp: £1.49/150g).
The refreshed packaging also features "artisanal" foodie cues and serving suggestions curated by Pladis' lead chef, Mark Schomberg.
The redesign would help attract more discerning food lovers nationwide, "driving household penetration and helping retailers increase sales among shoppers looking for new ways to enjoy savoury biscuits", said Pladis.
"We pride ourselves on the quality, flavour and signature texture of our products, along with the unique heritage story of JD Carr; with the redesign taking inspiration from the same founding values and craft, which still inspire our products today", said Carr's UK&I marketing brand manager Alex Payne.
"It's these baking, innovation and culinary values that shape our products – so we've made these USPs a real focus as we relaunch Carr's to the UK market", he added.
Pladis has also teamed up with chef Tom Kerridge to create a series of online recipes called "Carr's Creation", which will help shoppers discover exciting new flavour experiences, it said.