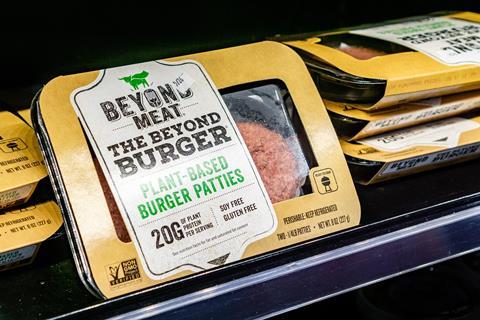 Growing demand for plant-based foods in supermarkets has helped The Authentic Food Company, which distributes Beyond Meat in the UK, steer through Covid-related declines in foodservice and wholesale.
The pandemic has pushed the private label business to focus NPD on the retail sector, which culminated in the launch of the first ready meal in Europe to use Beyond Meat as an ingredient under its Authentic Kitchen brand.
The rise of online shopping, takeaway and home delivery is influencing new products and future growth at the group, according to newly filed accounts for the year to 30 November 2019.
The accounts give no indication of the scale of sales decline within foodservice, but said it took "swift actions" to mitigate the impact of the virus.
Authentic stressed that Beyond Meat would continue to be a strong strategic partner, with the potential for further opportunities in foodservice and wholesale.
MD Nik Basran told The Grocer: "This year has brought significant challenges, but our continued focus on emerging trends, particularly in the plant-based and free-from markets, has enabled us to perform well.
"We have managed to successfully expand our offering with both existing and new retail partners.
"Looking ahead, we are optimistic that the reopening and recovery of the foodservice market will pave the way for another strong year."
Revenues in 2019 stood at £47.2m, compared with £124.5m in the 18 months to 30 November 2018, which fell following the liquidation of the Irish business in 2018 and the closure of the frozen meals factory in Dundalk it bought from Heinz in 2015.
The accounts said that with an appropriate cost base for the newly sized business, the group had enhanced business with its existing customers while entering into partnerships.
Authentic moved back into the black in 2019, with operating profits of £628k, compared with a £3.3m loss in the prior period caused by £4.5m of exceptional costs related to the business in Ireland.
The group added it had made significant progress in the execution of the strategic plan since the closure of the Irish factory.
Authentic, founded by Kamal Basran in 1985, has expanded over the years from a focus on Indian ready meals to include a large range of world food recipes, snacks and accompaniments.
The business became the exclusive partner for Beyond Meat in the UK and Ireland in 2018, launching a range of burgers, sausages and mince across retailers and foodservice.
Partner Beyond Meat's share price tumbled by 25% in November after it announced a surprise third-quarter loss and depressed revenue growth of just 2.7%.
The brand, which generates the majority of its sales in the US, said consumers freezers were full after stocking up earlier in the year and also flagged a 65% drop in international foodservice revenues.