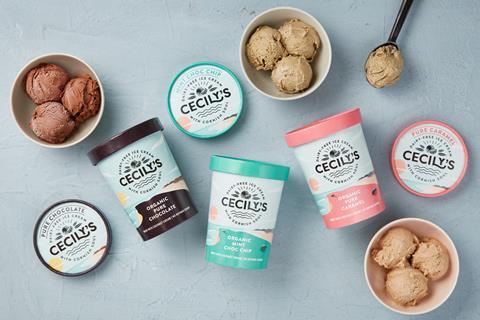 Plant-based ice cream brand Coconuts Organic has rebranded as Cecily's as it sets its sights on international expansion.
The Cornish brand is taking on the name of its founder Cecily Mills, a decision she told The Grocer "took a bit of persuading" on her part.
"We were looking at how we can grow the company, how to best position ourselves in this increasingly competitive market and we came to the decision that actually, calling it Cecily's would tick all the boxes in terms of being unique in the market and taking it to other countries," she said.
As part of the rebrand, Cecily's has given its packs a new look and switching the inner coating from polyethylene to a plastic-free sugar cane alternative, which adheres to organic standards.
"We're really proud to be a Cornish company, and we felt we could bring that out more on pack, give it a sharper presence," Mills explained.
The packs now feature illustrations of the Cornish coast, cliffs and beach.
"It represents what we love about this brand – it's still made by ice cream experts in Cornwall, and all of the expertise and heritage of Cornish ice cream is used, just with a 21st century twist, i.e. no cow's milk," said Mills.
The new look and rebrand has begun rolling out now, with plans to be in all of Cecily's current retailers by April.
Alongside this, Cecily's plans to launch a raft of NPD, with a focus on seasonal and limited-edition lines, to take on a "more flexible" approach to ice cream.
The news follows the brand closing its latest Seedr's fundraiser early due to "exceptional demand". It raised a total of £322k from old and new investors, and intends to spend the money on expanding the team, NPD and marketing.