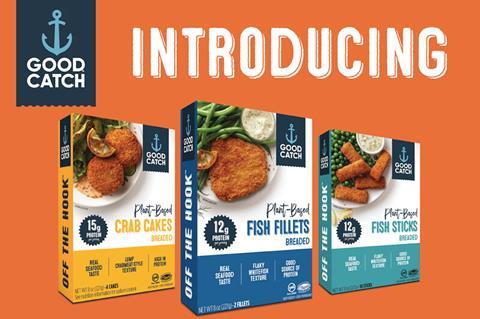 Seafood alternatives brand Good Catch is planning to significantly expand its UK range of plant-based fish alternatives by the end of the year after announcing the launch of NPD into the US market.
The brand, which first landed on UK shores last year with a plant-based tuna alternative, has unveiled three new frozen breaded products – fishless fish Sticks, Fillets and Crab Cakes.
All three are set to be made from the same base protein as Good Catch's existing product range – a blend of six different legumes, including peas, chickpeas, lentils, soy, fava beans and navy beans – and would have a high nutritional protein content, the brand said.
A spokeswoman for the brand stated it hoped to launch the new line onto the UK market "before the end of 2021".
The Sticks SKU – which has been styled on fish fingers – was said to have a "flaky whitefish texture with a light, crispy breading" and has been aimed at quick and easy weeknight occasions for the family. The Fillets NPD promised the same texture and has been designed to be used in burgers.
Meanwhile, the new Crab Cakes product was said to give a crabmeat texture and sweet crab flavour complemented by sweet peppers, spring onion, parsley and spice.
The news comes two months after Good Catch's parent company Gathered Foods secured $26.35m in a funding round, with the proceeds earmarked for NPD, expanding its listings in Europe and entering new markets.
The brand, which was developed by Wicked Kitchen founders Derek and Chad Sarno and plant-based food investor Chris Kerr, secured a listing for its plant-based tuna alternatives line-up with Tesco in January 2020.