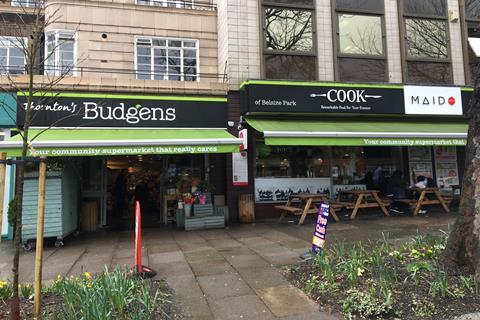 Plastic-free convenience pioneer Andrew Thornton has sold his Belsize Park Budgens store to the Kavanagh Group.
The sale is set to complete on 9 June.
In the short term, the London-based store will continue to trade as Thornton's Budgens before being rebranded as Kavanagh's Budgens later this year.
Thornton said he was "simultaneously delighted and sad to announce the sale" after 14 years at the helm. "This is a very challenging time to be a business leader," said Thornton. "We are still managing the impact of Covid, while at the same time all needing to do our part in reducing our environmental impact. In these areas, I believe the Kavanagh Group have the capabilities to rise to challenge."
Thornton's Budgens led the way on eco-convenience, being one of the first retailers to create plastic-free zones, in November 2018. The project earned Thornton a reputation within the sector as an expert in this field. He has since given industry talks and advised peers on best practice.
Thornton said Kavanagh was "fully committed" to continuing the store's plastic-free journey and confirmed he would be an advisor to the retail group, focusing on environmental issues and food trends.
In addition, Thornton will be launching two UK 'better for the environment' startups and writing a book titled 'Putting the Heart back into Business'.
"In selling the store, I also had to be sure that the new owner would be a good fit for the team on the next stage of the journey," said Thornton. "The hurdle rate I set for both the internal and external communities was high, and I am confident that the Kavanagh Group pass both these tests with flying colours."
The Kavanagh Group owns 11 SuperValu stores in the UK and Ireland and is operated by father-and-son team Noel Kavanagh Sr as chairman and Noel Kavanagh Jr as MD.
Kavanagh Jr added: "This is a very exciting acquisition for the Kavanagh Group. A superb location in North London and a truly unique store. Under Andrew's guidance, Budgens Belsize Park has been a market leader in sustainability and food innovation, introducing many new concepts such as the hugely successful sushi bar. To further enhance the offering and customer experience, we are planning to invest in excess of £1m in early 2022. In the meantime, I look forward to welcoming all existing team members into the Kavanagh Group".