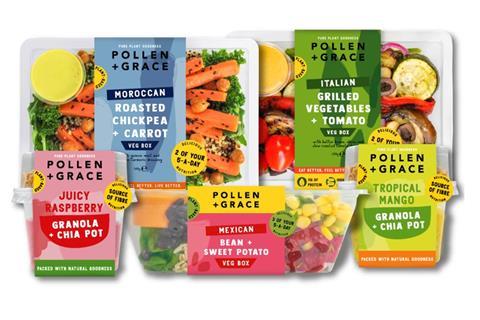 Vegan food to go brand Pollen + Grace has relaunched this month to capitalise on more mindful consumer habits brought about by the pandemic.
The relaunch includes a swathe of NPD, more generous portion sizes and a greater emphasis on locally sourced ingredients, it said.
New variants include its Mezze Houmous + Rainbow Slaw Veg Box (rsp: £3.50/300g), which contains 16g of plant protein, and its Tropical Mango Granola + Chia Pot (rsp: £2.30/175g), which is rich in omega-3, said Pollen + Grace.
They have rolled into Tesco, Ocado, Co-op and Amazon Fresh and select WH Smith stores.
Its packaging has also been updated to include 70% recycled plastic trays.
The updated food-to-go range would meet growing consumer demand for vegan alternatives to the sandwich, it said.
Its revamped plant-based salads, ready meals and breakfast pots would also tap an "increased environmental awakening and the post-pandemic demand for wellness" among consumers, it said.
Pollen + Grace founder Stephanie Johnson said the range would appeal to non-vegans and those looking for plant-based alternatives to combat climate change.
She added: "With 92% of sales coming from non-vegans, we're addressing value for money to win more over."
The relaunch will be supported by targeted social media ads, an influencer campaign and in-store activations.