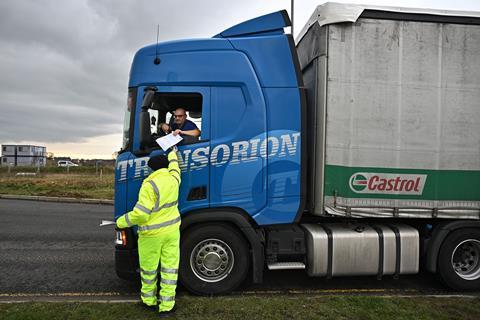 The UK government must delay plans for full checks on EU imports as the border infrastructure will not be ready for the July deadline, British ports warned this week.
The 11th hour EU deal, combined with delays to government funding, has left ports and inland border posts struggling to build the necessary facilities and recruit staff in time for summer.
The issues emerged after the government delayed announcing the recipients of its £200m 'Port Infrastructure Fund' until December last year, leaving seven months for ports to build border control posts.
Portsmouth Port said last month that its post-Brexit border posts were now "well behind schedule" in a report submitted to the city council, adding September 2021 was now the earliest possible date of completion. It also pointed to potential staffing shortages.
British Ports Association CEO Richard Ballantyne said a "pragmatic and sensible solution" was needed to ensure EU trade could continue as smoothly as possible. "We're not talking about years, we're talking about perhaps months that people need."
The readiness of inland border posts such as Ashford are also in some doubt after recent flooding delayed construction. "It's tight. It was massively tight when they announced it," said Shane Brennan, CEO of the Cold Chain Federation. "The main issue is about recruitment. Having people in place and able to run the processes in a similar way to how they've been doing in Calais and Rotterdam."
But despite the challenges, any further delays to the UK's border checks could have ramifications for the British government. The UK is currently acting illegally under WTO law by treating the EU differently to other third countries. While no other government has yet complained, any further extension may force them to act.
"If it's a situation where we get to a year or two years after the fact, and you're still giving preferential treatment to goods from the EU which is not applying to the US, China, Japan, wherever, that is then becoming a problem that could be notifiable to WTO," added Brennan.
The government insisted this week that checks would begin in July as planned. Emma Churchill, head of the Cabinet Office's Border and Protocol Delivery Group, told a Lords committee this week "there is complete certainty that the change is going to happen".
She added that unlike preparations for the end of the transition period last year, this certainty "will really help us in the discussions that we have with business and the way that we help them to prepare".
Cabinet Office minister Penny Mordaunt accepted that "the most challenging area is infrastructure," but insisted that "good progress" was being made to prepare for the new checks.