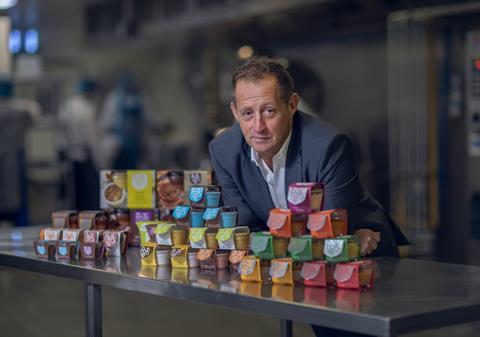 Posh pudding brand Pots & Co is eyeing a scale-up of its US operations and expansion of its savoury ranges after receiving multimillion-pound backing from the venture capital arm of food giant General Mills.
The investment arm of General Mills, 301 Inc, has led an investment of an initial £5m into Pots & Co to help fund its US and range expansion, with the sum potentially rising to a maximum of £15m ($20.5m).
The owner of Häagen-Dazs, Old El Paso and Nature Valley will take an active role in the development of the brand, installing two board members and helping scale up distribution and market penetration.
Pots & Co already has a retail presence in the US with revenues of about £8m and 40% year-on-year growth in the country, but the deal will underpin a "major expansion" in retail distribution.
"With this investment we're looking to really make some noise in the US," said Pots & Co founder Julian Dyer.
"This isn't an arm's-length investment. They [General Mills] have got huge capability in manufacturing and distribution and that's what you need when you go to the US as it's a completely different animal and we've only just started there."
The investment has already helped the brand sign a deal to supply its range of potted puddings to a number of stores on the west coast and in the Rocky Mountain region. In the longer term, it will also supply these stores with its new savoury, mezze-style dips range, launched in the UK in Selfridges in 2020.
The brand also has plans to expand more heavily into savoury categories after its initial push to broaden beyond puddings was slowed by the pandemic and retailers prioritising core ranges.
Pots & Co currently produces 16 million handmade puddings a year from its UK manufacturing base, using ceramic pots spun in Valencia, Spain, and has annual sales of approximately £15m.
The investment and involvement with General Mills will also see the brand explore establishing manufacturing capabilities in the US to potentially scale up its capacity in the region.
John Haugen, founder and MD of 301, commented: "Our mission is to discover new and emerging food brands with a remarkable offering. Pots & Co fulfils that mission with its focus on natural ingredients to create puddings of restaurant quality.
"As our first overseas investment and first investment in a UK company, we believe Pots & Co will deliver substantial growth with an increasing range of puddings and with its move into savoury products."
Dyer said the management team wanted to maintain a majority stake in the business at the current time, but said there was a possibility General Mills would consider building to a controlling stake in the future.
He said investment discussions had been taking place since March 2020 before being finalised in recent days.
The brand has continued to grow during the Covid period, albeit at a slower pace. Dyer said it lost around £2m of airline business as a result of the outbreak, which has been mitigated by strong retail growth and via its partnership with HelloFresh.