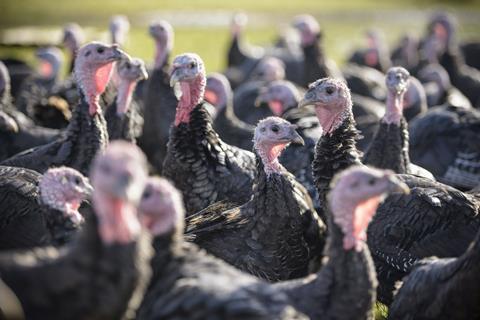 Uncertainty over the labour crisis means poultry processors are expecting a one-fifth reduction in the volume of British turkeys they'll be able to produce this Christmas.
A final decision on the number of birds laid down for this festive period would not be made for another two to three weeks, said British Poultry Council CEO Richard Griffiths.
But based on current staff numbers, the sector was working on the assumption that volumes would be about 20% lower than when supermarket orders were placed at the start of the year, he warned.
"Processors are looking to delay their decisions for as long as possible, but some larger birds are already on the ground," he said. And if nothing changed on the labour front "they won't be able to guarantee the manpower required to slaughter, process, pack and dispatch" the numbers expected at the start of the year, he added.
The BPC's concerns follow growing uncertainty – across the meat, poultry and wider food sectors – that chronic labour shortages on farms and in factories, coupled with the shortage of hauliers, could escalate mounting food shortages. Processors have also faced difficulties in recent weeks due to shortages of CO2 gas.
It echoes warnings by 2 Sisters Food Group president Ranjit Singh last week that the so-called pingdemic's contribution to labour shortages masked other fundamental issues plaguing the poultry sector, with the UK "facing a food crisis like we've never seen before".
"This situation reinforces the need for government to look again at the Seasonal Agriculture Workers Scheme and expand it to cover poultry and meat plants in the run-up to Christmas," Griffiths said, citing the sector's need for more staff to fulfil festive demand.
"If nothing is done, the outcome will be fewer British turkeys on shelves," he warned, adding shortages would affect everyone from the big processors to the small turkey farms who supply direct to consumers.