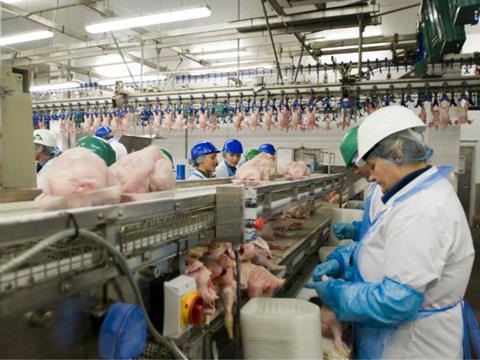 Shoppers will face shortages of all but the most basic chicken products unless the poultry sector's labour crisis is quickly resolved, 2 Sisters Food Group president Ranjit Singh has warned.
Speaking as the government last night confirmed it would exempt some supermarket depot and food manufacturing workers from Covid quarantine rules, Singh warned the so-called pingdemic's labour shortages masked other fundamental issues plaguing the poultry sector, with the UK "facing a food crisis like we've never seen before".
Ongoing labour issues linked to Brexit, as explained by 2 Sisters CEO Ronald Kers in an interview with The Grocer in June, alongside soaring commodity prices were the real drivers of the crisis, Singh said.
Those issues, which had been further exacerbated by shortages of CO2 gas in recent weeks, would soon lead to shortages of a raft of added-value poultry products from 2 Sisters and the wider sector, as processors focused on ensuring core products such as whole birds remained available.
"There is a real risk if this situation continues that not only will shelves be bare, what is there will be simplified products," Singh told The Grocer.
"There just isn't the resource out there so shoppers will just have to get used to basic offerings and less choice. A lot of our added-value poultry products, for instance, are complex and labour-intensive. We're just about managing at the moment, but something needs to change and urgently."
Singh added 2 Sisters had seen an average 15% shortage of labour across its 16,000 workforce this year, the majority of whom worked in chicken and ready meal production facilities.
He also took aim at the fact there remained about two million people on furlough in the UK, despite the economy being "essentially open", and a failure by government to "reclassify our frontline workers to the correct status so we have a corridor open for EU workers into the UK", referring to the Home Office's refusal to rethink its shortage occupation list for so-called unskilled workers.
Elsewhere, feed inflation was at an eight-year high, Singh said. Wage inflation was "unprecedented", while wheat, soya and other components had risen by more than 50% over the past year, with packaging up 20% and energy costs up 30%.
"These are unique, era-defining challenges which have all come to a head in the past 12 weeks. Clearly these have brought continued and intensive pressure on our business, just like they have elsewhere," he pointed out.
"This cannot be sustained indefinitely. The critical labour issue alone means we walk a tightrope every week. We're just about coping, but I can see if no support is forthcoming – and urgently – from government, then shelves will be empty, food waste will rocket simply because it cannot be processed or delivered, and the shortages we saw last year will be peanuts in comparison to what could come."
Singh's comments have been echoed across the meat sector in recent days, with the National Pig Association warning yesterday staff shortages were leading to a fall in throughput at some pig processors by as much as 25% – reviving concerns from December over animals being kept on farms for longer, which can ultimately affect animal welfare.
Meanwhile, the British Meat Processors Association today warned there was "key detail and clear guidance missing" from the government's quarantine exemption plan.
It wasn't clear who was on the list of the 200 or so food manufacturing sites Defra said would be exempt, it warned.
"We also question the government's decision to end the provision of free lateral flow testing kits to companies last Monday just as the 'pingdemic' started to take hold," the BMPA said in a statement.
"This just makes it more difficult and more expensive for companies to provide workplace testing and will inevitably start filtering through into higher food prices," it added, while questioning whether government departments would have sufficient administrative capacity to process exemptions quickly enough.
"Our fear is that, if infections keep rising at the current rate, there will be so many non-exempt workers taken out of the system that, regardless of those protected 'key sites', the rest of the supply chain around them will start failing."