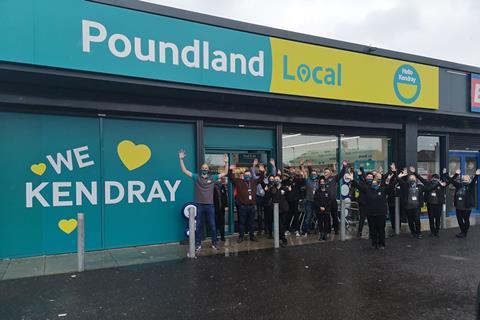 Poundland is today opening the first of its new convenience format stores, with additional food ranges including fresh fruit & veg.
The first 'Poundland Local' is in Kendray, Barnsley. It is to be followed tomorrow by the second in Hornsea, Yorkshire.
Both are in former Fultons Foods stores, which became part of the Poundland estate with its acquisition of the frozen food busines last October. Both are under 3,000 sq ft, smaller than a typical Poundland, and located in residential areas not currently served by the variety discounter.
Many of the products are from Poundland's core range, including 'everyday' groceries, but the Locals are also getting "additional ranges customers expect in a convenience store", according to the business.
Along with fresh fruit & veg, the food on offer will include an extended bread range, fresh cakes from the 'Poundbakery', other food to go and chilled and frozen. The convenience-focused range also includes beer, wines & spirits, fresh Lavazza coffee, vaping products and nappies, while the Kendray store will sell National Lottery tickets.
All products from Poundland's core range, such as health & beauty, batteries, toys, stationery and homewares, would be priced the same as in larger stores, the retailer said.
The Grocer revealed Poundland Local was on the way last month, as the trademark application was filed. It is one of two new convenience formats planned, the other being 'Poundland Go', for shops near travel hubs.
The first two Poundland Locals will be open from 7am to 9pm and employ 24 people in total.
"The launch of Poundland Local is a really exciting development and we hope customers are as excited as we are," said Poundland transformation and retail director Austin Cooke.
"While our Local format will have the ranges customers would expect in a neighbourhood store, they won't have to pay more for that doorstep convenience."
Poundland is in the process of rolling out chilled & frozen ranges in its core estate, a move enabled by the Fultons acquisition. The range is expected to be in 250 stores by the end of this year, served by expanded distribution centres in Barnsley, South Yorkshire, and Harlow, Essex.