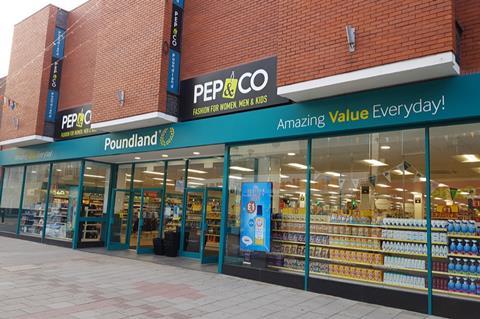 Poundland has applied to trademark 'Poundland Local' and 'Poundland Go!', pointing to its latest plans for new convenience store formats.
Poundland Local is to apply to stores in small towns and close to urban neighbourhoods, while Poundland Go! is for a new convenience format near transport hubs.
Poundland first announced plans to split its estate into new store formats in June last year, as part of what it called the biggest transformation programme in its 30-year history. The plans have been refined since that announcement, which said there would be three types, called 'core', 'convenience' and 'destination'.
"We expect to trial a small number of convenience store formats in the coming months," a spokesman told The Grocer today. "Poundland Local will be primarily in small towns and retail clusters close to residential and urban neighbourhoods.
"Poundland Go will be a convenience format adjacent to transport hubs."
Poundland's transformation programme has seen it expand grocery and fmcg, add new price points and roll out frozen and chilled ranges. Earlier this month it said stores were getting more "day-to-day brands such as Nutella, Marmite and Old El Paso".
Today, the retailer also announced the latest 46 stores to get frozen and chilled, following its acquisition of Fultons Foods last year. It brings the offer to a number of branches in the south of England, including in London, Worthing and Southampton. They are among 175 stores to gain frozen and chilled so far, a number set to rise to 500 over two years.
The most recent developments include tweaking store layouts and reconfiguring the self-checkout area to streamline the shopping experience.
"The past year has shown how important Poundland stores are to their local communities and providing a range of chilled and frozen food means our customers can get more of what they need in one shopping trip," said retail and transformation director Austin Cooke.
"Where we've given stores a makeover, the feedback has been tremendous. Shoppers love the extended ranges, and not just in chilled and frozen, and they really like the store layouts and the work we've done to make it easier to shop and check out."
Poundland has also been working on an online launch using a former Cannock store as a fulfilment centre. The plans were announced last July, when Poundland said the service would launch early this year.