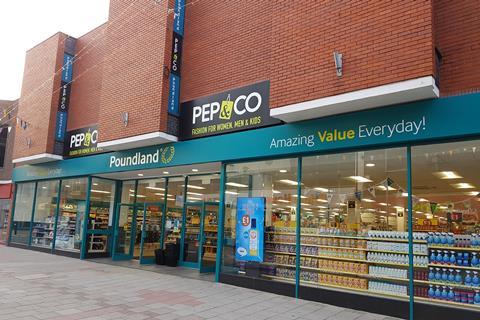 Poundland renegotiated 180 leases in the two years to the end of September 2020, saving over 36% on average, financial accounts have revealed.
The business plans to renegotiate hundreds more as leases come up for renewal by September 2024, saving around €20m in annual costs.
The numbers were revealed in full-year accounts from Poundland parent Pepco Group.
"Based on the experience from recently renegotiated lease rentals, where in the two years ended 30 September 2020 we successfully renegotiated 180 leases with an average reduction in excess of 36%, we are confident that there remains a significant opportunity to renegotiate more favourable lease terms," group CEO Andy Bond said of Poundland in the accounts.
Poundland has about 750 stores in the UK and about 60 in Ireland under the variety discounter's sister banner Dealz.
Rent remained Poundland's largest operating cost in the year to 30 September 2020, at £101m.
Fifty-five per cent of the leases were due for renewal by the end of September 2024, "representing a cost reduction opportunity of €20m", the accounts said.
Poundland head of portfolio management Ben Wall told The Grocer last June the business was renegotiating terms whenever leases came up for renewal. The chain had resisted a trend toward turnover-based rent during the pandemic, arguing property often simply needed to come down in price, Wall said at the time.
The accounts point to Poundland favouring traditional fixed-rent leases but on more flexible terms. "In all situations we will seek to maximise flexibility within the new lease with a short lease commitment and tenant-only break clause within the initial lease period," the accounts said.
Poundland would also consider relocating at every lease expiry, dependent on whether the evolving offer – such as the rollout of frozen and chilled food ranges – still suited the site.
"If the centre of gravity has shifted in the catchment, or the store is the wrong size to present our revised proposition, we will re-site the store within its catchment", the accounts said.
The Grocer revealed last month that a major landlord had criticised Poundland for not paying rent in the latest lockdown period. Poundland is classed as essential and permitted to remain open under lockdown, though the business announced the voluntary temporary closure of 44 stores amid declining footfall in January. Rent arrears had been accrued on both open and closed stores, the landlord source said at the time.