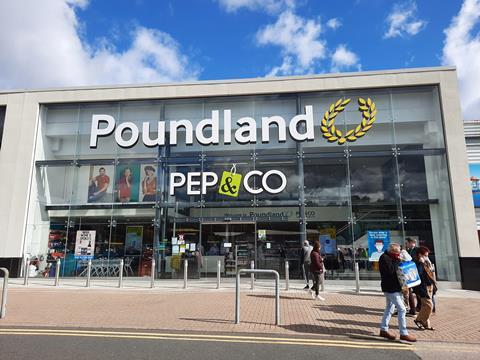 New ranges and price points both above and below £1 have helped Poundland and Dealz achieve 2.4% like-for-like sales growth, according to a trading update.
The growth in the first-quarter to December came despite "significantly reduced footfall" as people avoided shopping centres and high streets, where the majority of stores are located.
Revenue was €564m, up 8.4% year on year on a constant currency basis.
Dealz is the brand given to Poundland in Poland, Spain and Ireland.
The growth is expected to have resulted in market share gains in the UK, according to the update, showing Poundland's transformation programme is working.
Since the start of 2019, Poundland has introduced new price points from 50p to £10, grown grocery ranges and launched chilled and frozen food aisles. In October last year it acquired Fultons Foods with a view to rolling out fresh and frozen ranges to 500 stores over two years.
Poundland has also introduced new homewares ranges under its Pep&Co clothing brand, and this year plans to start selling online.
The update said Poundland's revenue growth had benefited from "continued extension of product ranges to price points above and below the £1 anchor price point", as well as Pep&Co's ranges. Multi-price sales made up 23.2% of revenue, up from 14.1% in the same period the year before.
Poundland and Dealz outperformed parent Pepco Group, which saw like-for-likes drop 2.1% thanks to store closures. The group traded from 3,218 stores at the end of the quarter, up 14.6%, while revenue was €1.2bn, up 9.1% on a constant currency base.
GlobalData retail analyst Jonathan Rock said that, though encouraging, Poundland's performance remained overshadowed by the runaway 21.1% like-for-like growth of rival B&M in the same period.
"Compared with B&M, Poundland's performance remains hamstrung by a high street-focused store estate and lack of a transactional website to compensate for this," said Rock.
"While Poundland's ill-suited store locations are hard to adjust, a lack of investment in online/delivery capacity following the first lockdown last year has come back to bite the discounter, as it now faces a similar period of vastly reduced high street footfall."
Poundland said in July 2020 that its online launch would come "early next year", with a former store in Cannock acting as a fulfilment centre. It has yet to give an update on the progress in 2021.
Poundland and Dealz have 917 stores in the UK and Ireland, including Fultons, according to the update.