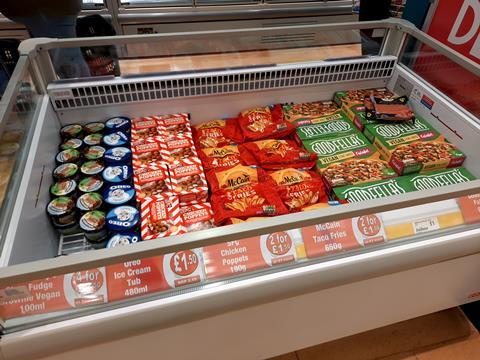 Poundland is rolling out free-from ranges to more than 300 stores across the UK, following a trial in 16 of the variety discounter's shops.
The range includes vegan Galaxy chocolate, gluten-free Chocolate Hobnobs and Alpro oat milk.
In total it consists of over 30 free-from products, also including dairy-free and gluten-free varieties of bread, porridge, cakes and snacks, from brands such as Eat Natural, Nakd, Schär and Trek.
The range has been selected to provide "everyday essentials" for people with food allergies or intolerances, according to Poundland.
The rollout will reach stores from the south west to north east of England as well as some in Scotland and Wales. The free-from range will also be available online at poundland.co.uk/shop.
The initial trial of the range, launched last July, was "enthusiastically welcomed by customers", Poundland said.
"Our pilot scheme showed just how much awareness there is about free-from foods such as dairy-free and gluten-free and how important they are to people with allergies and intolerances," said Poundland head of fmcg trading Glyn Hughes.
"They want to be able to buy them as part of their regular shop and now customers at hundreds of our stores will be able to pop them in their basket at Poundland's amazing prices."
Poundland is in the midst of a transformation programme which in the last two years has seen it grow its ambient grocery and fmcg range, introduce new price points and add frozen and chilled food to over 170 stores.