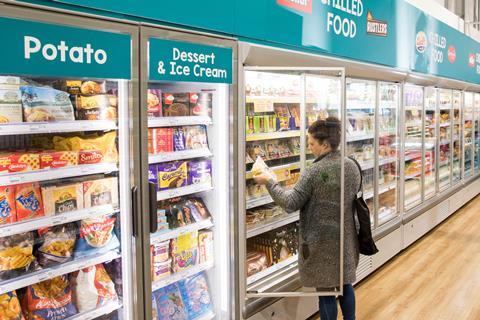 Poundland is rolling out its chilled and frozen ranges to nearly 40 more stores in July and August.
The offer is in 170 stores so far. The latest rollout will take it to 37 more branches and puts it on target to have reached 250 by this autumn, according to the variety discounter.
Some larger stores are also getting new trolleys and conveyor belt checkouts in an effort to encourage bigger basket spend, a key aim of Poundland's transformation strategy.
Poundland first launched frozen & chilled 'shops in shops' as a pilot in a handful of stores in 2019. It was able to dramatically step up its plans for a rollout thanks to the acquisition of frozen food retailer Fultons Foods last October.
"Customers tell us they love the ranges, the famous brands, and say the prices are amazing," said Poundland retail and transformation director Austin Cooke. "That's why we're pushing hard to keep going as quickly as we can so we can bring even more choice and value where our customers want it most."
Poundland is aiming to have the range in 500 stores within two years, in a £25m investment in chilled & frozen following the Fultons buyout.
These are the stores getting it in July and August:
Week commencing 5 July
Stamford Markham (new store)
Week commencing 12 July
Beeston, Notts
Catterick RP, North Yorks
Nottingham Chilwell RP
Ravensthorpe RP, Northants
Byker RP, Newcastle
Week commencing 19 July
Newcastle-u-Lyme High St
Derby, London Rd
Crystal Peaks SC, Sheffield
Preston, Deepdale RP, Lancs
Washington, The Galleries
Week commencing 26 July
Bromsgrove High St
Skelmersdale The Concourse
Sheffield, The Moor
Swadlincote RP
Mansfield Four Seasons SC
Week commencing 2 August
Sutton Coldfield, The Parade
Oswestry, Cross Street
Gainsborough Marshalls Yard RP
Sheffield Kilner Way RP
Clay Cross RP
Halifax, 17 Market Street
Week commencing 9 August
Solihull Mell Square
Flint RP
Durham Riverwalk SC
Walsall St Matthews
Sheffield Castle Square
Halesowen Cornbow SC
Week commencing 16 August
Redditch Kingfisher Walk
Colne, Boundary RP
Harrogate, Victoria SC
Armley, Town St
Stockton-on-Tees, High St
Week commencing 23 August
Sheldon, Coventry Rd, Birmingham
Darlington North Road
Birmingham Fort RP
Week commencing 30 August
Ilkeston Waterside