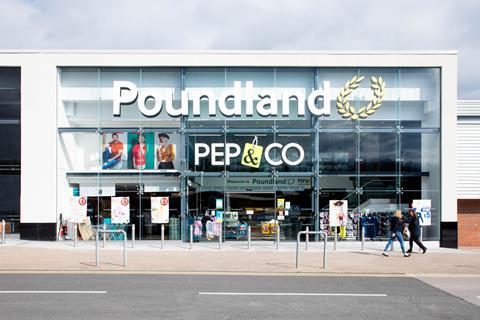 Poundland has quietly launched online home delivery, initially making the offer available to staff and "selected guests".
The variety discounter has been working on selling online since July last year, as part of what it has called the biggest transformation programme in its 30-year history.
Deliveries for "Poundland's 18,000 colleagues and selected guests" have been underway since the end of February this year, though no announcement was made at the time. Over 2,000 lines are available for staff and guests to choose from, including both food and general merchandise.
Poundland told The Grocer the pilot, which uses a former store in Cannock as a fulfilment centre, was going well and would be opened up to the public in due course.
The online plans were also outlined in a press conference yesterday (26 April) on parent Pepco's plans to float on the Warsaw Stock Exchange.
Pepco CFO Nick Wharton said: "In the balance of 2021 we will be trialling both in Pepco and Poundland a series of online models and these will test a variety of approaches to online.
"We'll test home delivery as well as click & collect in-store. And we'll also have our own e-commerce platform, our own transactional website, but also test the benefits of being on a shared marketplace, essentially to share the costs of that operating base."
It is understood click & collect and use of a shared marketplace are not a feature of the UK online pilot, which currently consists of home delivery only.
The online launch is part of a dramatic transformation programme, which in under two years has seen Poundland expand grocery and fmcg, add new price points and roll out frozen and chilled ranges, the latter aided by the acquisition of Fultons Foods last October.
Last week, The Grocer revealed Poundland was also planning two new convenience formats, one for sites close to residential areas, called 'Poundland Local', another for shops near travel hubs, called 'Poundland Go'.
Announcing its intention to float in Poland, the group said it planned to treble the size of its international store portfolio, including the Pepco clothing and Dealz brands, in order to deliver EBITDA of more than €1bn within five to seven years.
However, on expansion of the Poundland estate in the UK, Pepco CEO Andy Bond said: "It's worthwhile remembering it is a very mature business in terms of the number of stores. We have over 800 shops in the UK now. I think what we'll see is a slight increase in that each year."
On the choice of Warsaw for the float rather than London, Bond said: "Pepco was started in Poland. It is our home market, it's our largest market from a cash profit point of view. It's the most profitable market and it's our emotional home. Therefore it's perfectly logical for us to list in Warsaw."