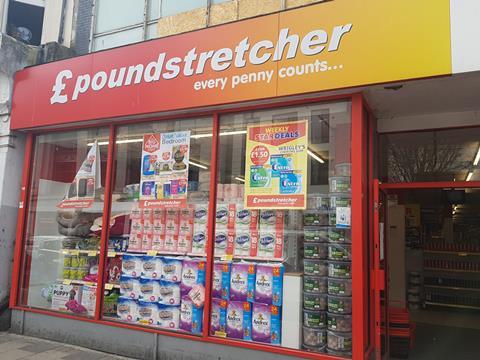 Poundstretcher's estate has shrunk by 75 stores since it launched a company voluntary arrangement (CVA) rescue plan a year ago, analysis for The Grocer suggests.
It shows the business had 437 stores in July 2020 and 362 this month.
The numbers include stores trading under the variety discounter's 'Bargain Buys' banner. They dropped from 79 to 61 stores, while branches under the Poundstretcher banner fell from 358 to 301.
The net decline comes despite Poundstretcher also opening stores, meaning the number to have closed will be higher.
The CVA, launched in June last year, put more than half of Poundstretcher's estate at risk of closure dependent on performance and landlord co-operation. However, in October plans to offset the closures with 50 new openings were confirmed by Poundstretcher and its restructuring partner KPMG.
"The data suggests that like many other brands Poundstretcher are going through a process of optimising their network, closing their underperforming sites and looking to open new locations where suitable options arise," said Charlotte King, senior location intelligence consultant at CACI, which ran the analysis for The Grocer.
Recent new locations for Poundstretcher include a 10,000 sq ft former Poundland store in Northampton.
King said: "With the changing pattern in consumer footfall arising from Covid-19 we could expect to see a greater shift towards retail park destinations as out-of-town locations have seen higher levels of footfall throughout the pandemic."
Poundstretcher was approached for comment.