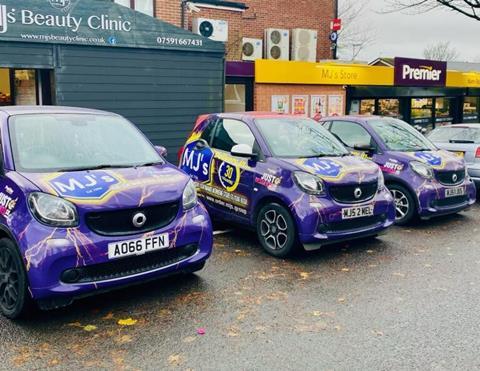 Premier retailer MJ's has clocked up more than £1m of sales through its delivery app, 12 months after launching the service.
Owner Justin Whittaker said the 30-minute delivery service had "transformed the business" and was now its most profitable division.
The store averages between 100 and 120 deliveries Monday to Thursday, increasing to 150 on Friday to Sunday.
MJ's charges £3.49 per delivery with a minimum order value of £10, and average basket spend is £25, according to Whittaker.
He said margins had exceeded 30% due to the "high fresh mix". The 10 most popular items ordered include milk, bread, bananas and mushrooms.
Up to eight members of the MJ's team work on home delivers during busy periods while four branded vehicles distribute the goods within its three-mile catchment area.
Whittaker said the service was "here to stay".
"We are delighted with the delivery service, it really has been a game-changer for us," he said. "I can't actually believe that sales have hit £1m already.
"Of course, we were very lucky to launch the service when we did. However, we have worked really hard to exceed our customers' expectations."
He added: "Making sure we arrive within 30 minutes is crucial. We always offer great value as a Premier retailer and this has been a real advantage for us.
"We also have to ensure the quality of the items we are delivering – they have to be as perfect as [those] bought in the shop."
Booker sales director Martyn Parkinson said: "Justin is a shining example of the true entrepreneurial spirit of Premier retailers across the country.
"The independent sector has never been more vibrant and this is because of retailers like Justin who continue to innovate their business and push it forward through technology.
"It has been an absolute pleasure to work with Justin on this project and support his growth. To have a £1m delivery service from a store that is only 1,400 sq ft is phenomenal and with margins at over 30% it makes perfect business sense."