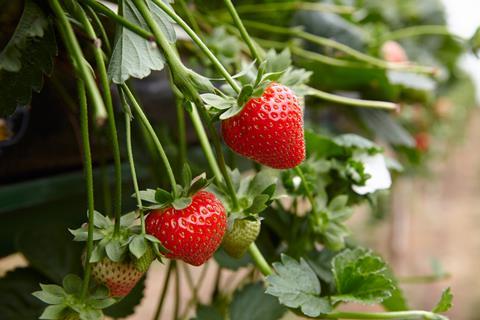 Sales of premium strawberries have rocketed so far in 2021 as consumers have prioritised quality over price considerations, grower co-op Berry Gardens has said.
Between weeks one and 27 (the week commencing 5 July) of 2021, the Kent-headquartered supplier sold 1,767 tonnes of high-quality strawberries – a 49% rise on the 1,171 tonnes sold in the same period in 2020 – a mix of IRI, Kantar and Berry Gardens' own data has shown.
This increase was compared with the 28% jump in volume sales across the category as a whole, and meant Berry Gardens boosted its volume share of the premium strawberry category by eight percentage points to 53%.
It put the leap in sales down to consumers who had managed to save money during the Covid-19 pandemic and who had since placed a greater emphasis on pleasure and enjoyment with their food.
The business pointed to research of 1,000 shoppers by IGD in April, which found shopper focus on quality versus saving money had increased from a score of minus 6 at the beginning of the pandemic to plus 9 this year.
Further IGD research of 2,001 adults in February showed 42% of shoppers intended to live healthier lifestyles post-lockdown, rising to more than half of 18 to 34-year olds. According to Berry Gardens, this suggested the premiumisation trend was here to stay.
"This trend towards premiumisation has seen consumers asking more questions about the food they are buying – how it is grown, where it is grown and what are the added benefits," said Berry Gardens commercial director Rob Harrison. "Likewise, with the rise in importance of sustainable food production, food security and the environment, British-grown produce is more important than ever.
"As a business we have adapted to this consumer demand for local produce throughout the season, and there is no doubt that our ability to supply premium British produce for longer has also contributed to this growth in sales."
Thanks to developments in glasshouse and polytunnel technology, Berry Gardens said it now provided premium strawberries for an average of 42 weeks a year.
Harrison added that Berry Gardens was aiming to continue to grow the premium berry category by focusing and investing "heavily" in both educating and building a relationship with consumers aged 25 to 34.
It comes after the business teamed up with Olympic champion Jessica Ennis-Hill for its six-figure 'More Than Taste' campaign – Berry Gardens' largest marketing drive to date.
The news also follows last week's announcement by the supplier that it is set to save 133 tonnes of plastic a year thanks to a new design of punnet that removes the need for bubble pads and reduces pack weights by 18%-20% compared with its existing packaging.
Berry Gardens has already revamped its own-label packaging this year to include 80% recycled content and a minimum of 30% Prevented Ocean Plastic.