The Convenience Mix podcast looks at 'Caring for the Community' in new episode
21 May 2021
Ex-Brakes stalwart Warren Harris joins RH Amar as business development head
21 May 2021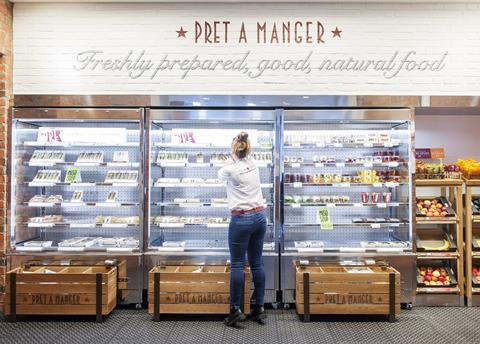 Pret a Manger is opening stores in petrol forecourts for the first time as part of a new tie-up with Motor Fuel Group.
The first store in the trial opened this week in an MFG-owned BP-branded forecourt in Southgate, London. A second location is in the pipeline for 2022.
The Southgate site will house a full on-site kitchen offering freshly prepared food along with organic coffee and teas. Baristas will be trained by the sandwich chain.
"We are proud to become the first forecourt operator globally to welcome a Pret on site," said Motor Fuel Group CEO William Bannister.
"We pride ourselves on not only serving the motorist but also on being a leading convenience retailer. The fact that such a well-known and trusted high street brand as Pret has decided to trial their very first forecourt partnership with MFG cements our commitment to being a one-stop offering for both our local communities and those travelling through. We look forward to working with the Pret team on what I am sure will be a hugely successful and popular addition for our customers."
Pret A Manger MD Clare Clough added: "Since the start of the pandemic, we have looked for innovative ways to bring Pret to more people, and partnerships, such as this one, are an important part of this strategy. We hope that customers will enjoy this new concept and we look forward to working more closely with the MFG team in the coming months."
The collaboration follows Pret a Manger's announcement earlier this month to open four new stores in Tesco and forms part of the company's transformation plan after customer numbers dwindled in city centre locations during the pandemic.
The sandwich chain diversified into bake-at-home goods in March with up to 700 Tesco stores now offer a range of frozen croissants and granolas.