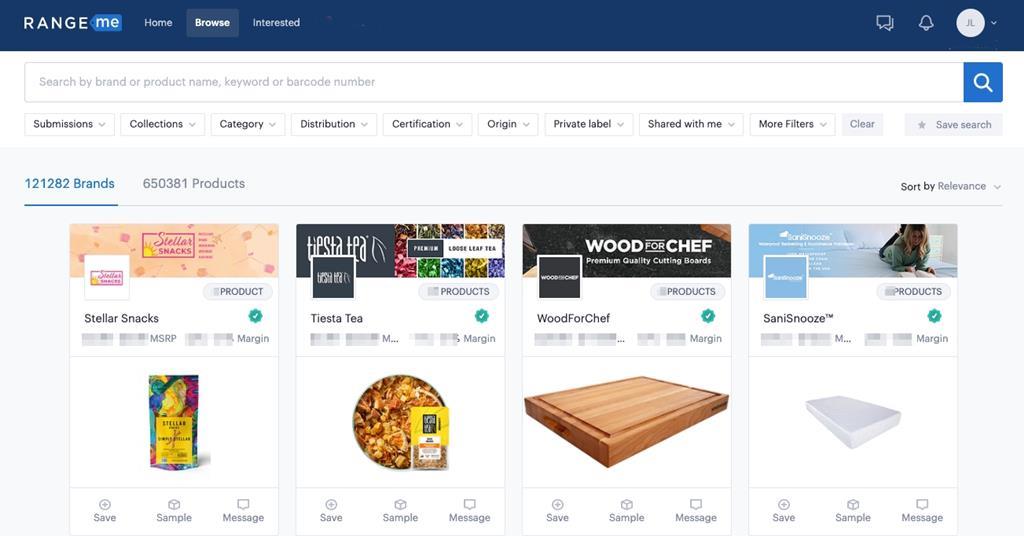 US product discovery platform RangeMe – which counts Walmart, Walgreens, Whole Foods Market and Albertsons as users on the buyer side – has launched in the UK.
It is the company's first launch outside the US, with ambitions to expand into other regions this year.
Buyers from British retailers using the platform will be able to source more than 750,000 products globally and connect with more than 200,000 suppliers, RangeMe said.
Lloyds Pharmacy has been named as an early adopter of the UK version of the platform, which, according to John Acland, head of category management and e-commerce at Lloyds parent company McKesson UK, will allow it to "quickly scale our buying operations" and "reduce the time to get more products on our shelves".
The platform was launched in 2013 and is claimed to be used by around 12,000 retailers in the US as a means of scaling product sourcing work with standardised supplier submissions, digital sell sheets and easy-to-use discovery tools.
"We pride ourselves on offering the widest range of products that meet the highest standards for consumers," Acland said. "RangeMe is already helping us to identify a wider spread of products for our customers."
From a supplier perspective, the platform provides "a front-row audience of the biggest high street retailers" and a means to build brand awareness with them.
"Consumers are looking for a variety of products from all over the world and sourcing them online," said Nicky Jackson, CEO of RangeMe. "The British public is no different, yet high street retailers have struggled to offer these products in store or online principally because they don't have sight of all that's available in the market. RangeMe will change this for retailers bringing more choice to shopping aisles and a significant revenue opportunity."
Product discovery platforms are a relatively new concept in retail, and offer an alternative to trade shows, cold calls and in-person pitching.
RangeMe joins Product Guru in the UK market. Product Guru launched in 2018 and in November secured a £330,000 investment following a significant increase in sign-ups through last year.
As well as its discovery platform, Product Guru offers virtual pitching events for brands, which have been attended by buyers from Tesco, Sainsbury's, John Lewis, Morrisons, Boots, Asda and WH Smith.
Both platforms are free for buyers to use. For suppliers, signing up to RangeMe is free but there is a paid subscription option. Premium subscriber suppliers get a 'verified' label that promises "up to 7x more buyer views" and the ability to see which buyers viewed their products.
Product Guru is introducing an optional paid subscription with "specialised features" in the coming months.
"We pick up the heavy lifting for buyers and present the global product market opportunity in one screen," Jackson said. "The world has become a smaller place but it remains distant for forging strong cross-border buyer and seller relationships. RangeMe will bridge this gap for buyers and sellers around the world and ensure extraordinary products hit store shelves faster than ever before."