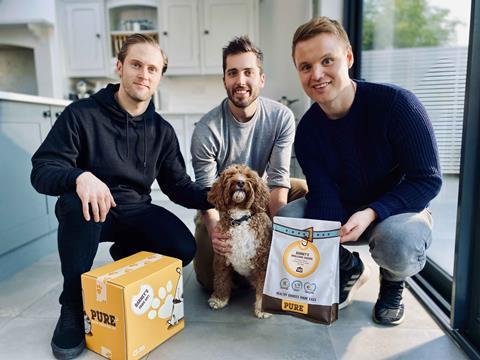 Yorkshire-based dogfood manufacturer Pure Pet Food has received a further "multimillion-pound" investment to help grow its subscription and retail sales.
The provider of air-dried dogfood using "human-quality" ingredients has raised an unspecified sum from NPIF HTV Equity and Mercia Fund Management.
The latest funding round follows a £2m cash injection from NVM Private Equity in 2019 to accelerate its growth plans.
"The investment will help Pure continue to provide the very best service to our customers, create deeper connections, significantly grow our customer base, offer more personalised health-based products and services, develop and grow our retail proposition with Pets at Home and continue to lead the air-dried petfood market in the UK," said Mathew Cockroft, co-founder of Pure.
Set up in 2012 by Daniel Valdur Eha and Mathew Cockroft, Pure focuses on personalising pet nutrition using only natural ingredients.
Valdur Eha added: "Our obsession with pet health and technology has meant we've been able to take a truly data-led approach to pet nutrition. Our success is rooted in being able to conveniently offer the most nutritious diet at every stage of a dog's life.
"We continue to be laser-focused on our vision to be the most trusted and advocated petfood plan in the UK and put pet's health at the heart of everything we do."
Pure's growth has accelerated in the pandemic, with owners opting for the online subscription convenience instead of carrying their heavy dry or wet food home from a store.
Last year the company took on a new 14,000 sq ft manufacturing facility in Cleckheaton, Yorkshire, to meet a surge in demand that saw new customers double during the early months of the pandemic.
A representative of Mercia said: "We're delighted to support Dan and Mat as they expand Pure Pet Food in the fast-growing petfood sector. With dog ownership and home delivery on the rise and owners generally focusing more on health, Pure is in a real sweet spot and represents the future of pet nutrition."