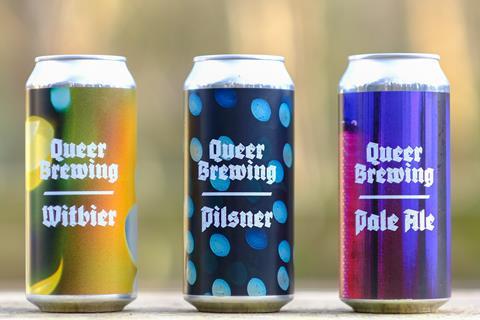 Queer Brewing has unveiled its first core range of brews.
The beer brand, which was founded by award-winning beer writer and artist Lily Waite, has launched a pilsner, a witbier and a pale ale.
Brewed in partnership with Manchester craft brewery Cloudwater, they will be Queer Brewing's first drinks to be widely available – prior launches have all been one-offs or limited-edition production runs.
The pilsner, called Tiny Dots (4.5% abv), is billed as "crisp and refreshing" with "gentle herb and spice notes over a bready pilsner malt base", while the witbier, called Flowers (4%) offered "notes of ripe orange and foam banana, bright citrus and spice from the coriander seed, and a touch of noble hop spice".
The pale ale, called Existence As A Radical Act, rings in at 5.5% abv and was "the biggest and punchiest of the three", said Queer Brewing. It is fermented with kveik yeast and made with citra and simcoe hops.
The brand has also been given a new visual identity "with the aim to create a space for LGBTQI+ people in the world of craft beer".
"We wanted to brew beers that can bring people in through their approachability, and also open their minds through the beers' complexity and character," said Waite.
"Our aim is to use beer as a platform and as a vehicle for social change, pushing for more representation, visibility, and community for LGBTQ+ people – both in the beer world and beyond."
Queer Brewing was the first beer startup to win funding from Cloudwater as part of the cult brewer's Wayfinder initiative, an incubator scheme to grow businesses that bring "lasting change" to the craft beer trade.
Waite said she planned to begin approaching LGBTQ+ venues across the UK as potential stockists once pubs and bars were allowed to reopen.
"When you design beer, you're designing social experiences, most of these have so far been centred on a narrow demographic, informed by the white, straight men that predominantly make up the industry," said Cloudwater founder Paul Jones.
"The future is Lily and people like her, who can conceive experiences beyond the craft beer's self-imposed constraints, to offer consumers new takes and transform people's expectations both within and outside the industry."
The beers will be available direct from Cloudwater's webshop from 5 February (rsp: TBC).