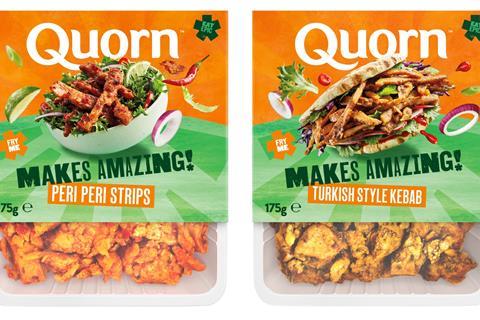 Quorn is to launch a new vegan ingredients range in time for Veganuary, designed to attract new shoppers to the meat-free category.
Targeted at scratch cooking shoppers, the brand's chilled Makes Amazing range consists of peri peri-flavoured Quorn strips and Turkish-style kebab-flavoured strips, which will go on sale in Waitrose on 30 December, Sainsbury's on 2 January and Asda on 4 January (rsp: £3/175g).
Usable as an ingredient that added "some wow" to a range of different meal occasions, Quorn said the two variants were designed to be fried, were "packed with bold flavours" and would "provide consumers with tasty ingredients".
Chilled ingredients were already the fastest-growing sector within meat-free, the brand said, while the surge in scratch cooking during the pandemic meant Quorn was "confident the range will add incremental sales to the category".
The category is now worth £37.7m and grew by 86% this year [IRI Total Grocery & Ocado 52 w/e 7 November].
"Our mission is to help reduce the impact that our diets have on the planet and our health," said Quorn marketing director Gill Riley. "To do that, we need to make it easier for people to come into the category.
"The Makes Amazing range provides shoppers with exciting flavours from a brand they know and trust," she added.
"2020 saw the most successful Veganuary to date, with more than 400,000 people taking the pledge, and there's a halo effect which leads to many more people taking part than signing up. It's a key period to entice new shoppers into the category and is set to be even bigger in 2021."
The range will be supported by a £1.5m launch campaign, including a partnership with online cooking platform MOB Kitchen kicking off in January, alongside retailer shopper marketing and online support developed to drive awareness and trial.