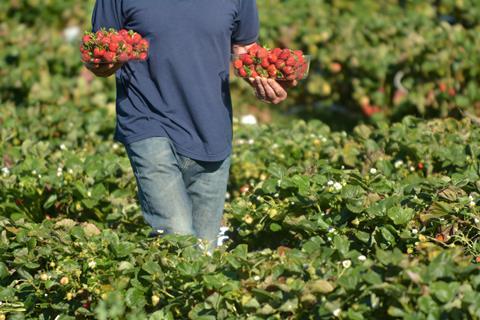 Real-terms funding for the Gangmasters and Labour Abuse Authority has fallen for the second year in a row despite it dealing with a growing number of cases, its latest report and accounts have shown.
The anti-modern slavery and labour exploitation quango, which licenses recruitment agencies used by the fresh produce sector, has received more funding since its remit was expanded to allow labour offence investigations in 2017. However, its costs have continued to grow at a greater rate.
The GLAA's net expenditure grew 6% (£376k) to £6.6m in the year to 31 March 2020. But Home Office funding only increased 2.3% (£131k) to £5.9m over this period. It left a funding shortfall of £713k (11%) – a gap 4% larger than last year. This meant the organisation's reserves fell £294k into the red.
Despite the GLAA's deficit, the Home Office claimed it was providing enough funding for the agency to adequately perform its role.
"Funding for the Gangmasters and Labour Abuse Authority increased in line with its expanded remit and powers. Over the last four financial years we have provided £8.5m in additional funding and this year we are providing up to £54,915 for additional preventative projects," said safeguarding minister Victoria Atkins.
"We are committed to eradicating the scourge of modern slavery and labour exploitation and bringing the perpetrators behind these abhorrent crimes to justice."
She added that since 2016, when former prime minister Theresa May pledged to tackle modern slavery in her first speech as PM, the government had provided £33m a year for enforcement of labour market legislation.
And despite the financial pressure it was under, the GLAA led 26% more investigations and identified more than double the number of potential victims (15,186) than in the previous year.
It also improved the length of time it took to complete compliance investigations – down from an average of 185 days in 2018-19 to 88 days in 2019-20.
Responding to the accounts, British Growers Association CEO Jack Ward said: "The blight of modern slavery should be a concern to everyone and we need to eradicate it from our society. It's important adequate resources are made available for the blight of modern slavery to be eradicated from society."
Nick Marston, CEO of British Summer Fruits, added: "If you look at the farms in the berry industry, they are well structured and considered employers and I think the risks are low compared to some other sectors.
"[Modern slavery] is always a concern. Growers have to take all practical steps to ensure people they're employing are not being abused by third parties."