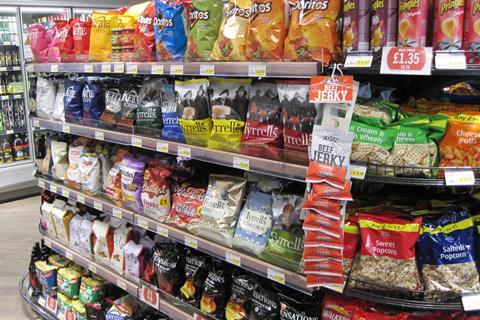 Health campaigners have launched a report claiming many snacks targeted at the "healthy eating" market are dangerously high in salt.
Researchers for Action on Salt, based at Queen Mary University of London, are calling for a restriction on the use of "misleading" nutrition claims on foods, many of which they say are saltier than the concentration of sea water.
They carried out an analysis of 118 snacks including dried/roasted pulses and processed pulse snacks (lentil curls, chickpea chips and puffs), which it said were often perceived as healthier alternatives to crisps and nuts.
It found despite the products being on average lower in fat, saturated fat and calories, and higher in fibre compared to standard crisps and flavoured nuts, over one in three (43%) were also high in salt (more than 1.5g/100g).
The study, carried out to mark Salt Awareness Week, found the saltiest product surveyed was Eat Real Hummus Chilli & Lemon Flavoured Chips with 3.6g/100g salt, and over 1g salt in a single suggested serve (28g), more salt than two portions of McDonald's small French fries.
Amongst dried/roasted pulses, corn-style snacks were on average the saltiest at 1.85g/100g, with more salt than salted peanuts. The saltiest dried pulse snacks surveyed were Love Corn Salt & Vinegar and Love Corn Habanero Chilli, with 2.8g/100g salt – saltier than the concentration of sea water.
"We should all be eating more beans and pulses, but there are better ways of doing it, and eating processed snacks high in salt is not one of them," said Action on Salt campaign manager Sonia Pombo.
"This important survey has put a spotlight on the unnecessary amounts of salt in 'healthy' snacks, and the use of nutrition claims on HFSS foods needs to be questioned. Instead of misleading their customers, companies should be doing all they can to help us all make more informed decisions, including using front of pack colour coded labels."