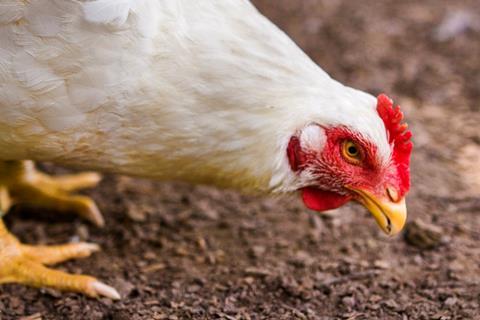 The UK's leading retailers have hit back after a report by The Humane League described them as "lagging behind" on chicken welfare.
In its 'State of the Chicken Industry' report, published yesterday (10 June), the animal welfare group said commitments to higher chicken welfare standards were on an "upwards trend" overall.
However, while foodservice, QSR, manufacturers and suppliers were said by the NGO to have made "big progress" on improving their welfare practices, it estimated just 5% of the chicken sold in UK retailers was compliant with the Better Chicken Commitment – a set of six high-welfare housing and lifestyle measures endorsed by leading animal welfare groups across Europe.
This figure came despite The Humane League's data showing a quarter of the UK's chicken demand is now committed to meeting the BCC criteria by its target year of 2026. Out of the top 10 UK supermarkets, only M&S and Waitrose have pledged to meet the standards.
It urged the sector to "step up to the plate" and take "urgent action" on chicken welfare.
"Supermarkets once led the way in advancing animal welfare. Now, they're dragging their feet," said The Humane League UK's MD Vicky Bond.
"Supermarkets pride themselves on caring about consumers and animal welfare, but they are failing both and risk being left behind. This coming year we must hold supermarkets accountable and ensure they all commit to the Better Chicken Commitment."
The British Retail Consortium disagreed with The Humane League's assessment of the mults' efforts to improve chicken welfare.
"Retailers know how important good animal welfare is to consumers which is why they take their responsibilities to animal welfare very seriously and they ensure it is a key part of the production standards for all the meat they sell," said BRC director of food and sustainability Andrew Opie.
"Supermarkets offer free-range and organic chicken in addition to the standard range and are working hard to ensure all ranges are accessible and affordable. Our members work rigorously with trusted suppliers to ensure high welfare standards are upheld."
Echoing Opie's statement, a Lidl spokeswoman said the discounter was "committed to increasing high welfare and traceability standards throughout our supply chain" and pointed to its introduction of poultry labelling in 2019 that indicated the conditions in which the animal was reared as an example of how it was boosting transparency.
Meanwhile, Co-op described animal welfare as "a priority" and said it would be moving its standard chicken line to BCC standards as part of a trial in a bid to "understand more about a slower growing breed of bird, if it can meet the needs of our customers and how the commitment can be met whilst minimising the environmental impact", said a spokeswoman for the retailer.
The Humane League also criticised retailers for selling high-welfare chicken at a "dramatic markup" and claimed NFU research which suggested meeting the BCC standards would add 33p in production costs per bird had failed to take into account lower rates of mortality and economies of scale.
The report's release comes a matter of months after Morrisons came under fire from animal welfare groups after it announced the launch of a new range of chicken which met the criteria of the Better Chicken Commitment.
At the time, the retailer's move was described as being "superficial" by The Humane League and it has since been the subject of a sustained campaign by Animal Equality, which aims to get Morrisons to make the BCC pledge.
The Grocer approached Morrisons for comment on The Humane League's report.