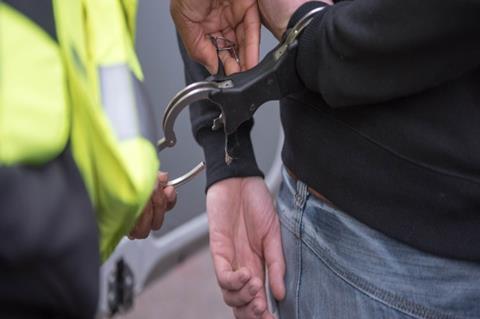 Retail leaders have welcomed a move by Scottish Parliament to create a specific offence of assaulting a shopworker, and called on Westminster to follow suit.
Scottish Parliament yesterday voted to support a bill to create a new statutory offence of assaulting, threatening or abusing a retail worker and provide extra legal protections when the worker is carrying out statutory duties such as ID checks for age-restricted sales.
MSP Daniel Johnson's Protection of Workers Bill can now be submitted for royal assent before becoming an Act of the Scottish Parliament. It is hoped it will lead to more prosecutions and convictions of offenders.
It follows months of campaigning for greater legal protections for retail workers, which have been met with "little more than sympathy" by UK government, according to shopworkers union Usdaw.
BRC CEO Helen Dickinson said: "Scotland has led the way in giving retail workers the legal protection and recognition they deserve, and they have sent a clear message that the rise in abuse and violence must end.
"Retail colleagues will be protected in Dumfries, but not in Carlisle – why can't this legislation be replicated in the rest of the UK?"
Scottish Grocers' Federation CEO Pete Cheema said: "Once the bill receives royal assent we will at last have key protections in place for shopworkers who will benefit from a safer in-store environment and will also provide them with confidence when carrying out their work. Today's vote represents a key step-change in terms of Scotland's approach to retail crime."
Edinburgh South MSP Johnson said: "For too long, violence and abuse were seen as part of the job for shopworkers but having worked with the Scottish Grocers' Federation and other stakeholders across the country these past years, we have all challenged that assumption and provided workers with the protection of the law they deserve."
Abuse of shopworkers is at the centre of the debate over who should enforce mask wearing by shoppers. Last week, following pressure from government for tougher in-store measures to prevent the spread of Covid-19, Tesco, Asda, Sainsbury's, Morrisons and Aldi all announced shoppers without masks would be barred from entering unless medically exempt. Meanwhile, BRC head of food policy Andrew Opie said it was down to police to enforce the rules, while Iceland cited a rise in abuse of shopworkers as its reason for not copying its rivals' policies.
Dickinson said: "Shopworkers have suffered for too long – our crime survey found that there are over 400 incidents of violence or abuse against colleagues every day, and triggers often include implementing government-mandated safety measures.
"[UK] government has yet to respond positively to our pleas for attacking shopworkers to become a specific offence. Westminster must stop dragging its feet and take the necessary action to protect retail colleagues from harm."
Usdaw general secretary Paddy Lillis said: "The Scottish Parliament is leading the way on protection of shopworkers by passing this bill. It is a great result for our members in Scotland, who will now have the protection of the law that they deserve. We are grateful to Daniel Johnson for steering this important legislation through the Parliament.
"We have been deeply disappointed with the UK government's response to our campaign, offering little more than sympathy."
Co-op Food CEO Jo Whitfield tweeted: "A huge thank you to @DJohnsonMSP on behalf of all @coopukcolleague for getting this Bill passed today for Scottish retail workers. Truly leading the way. Let's see what we can do for the rest of the UK and the key workers that have kept the nation fed!"