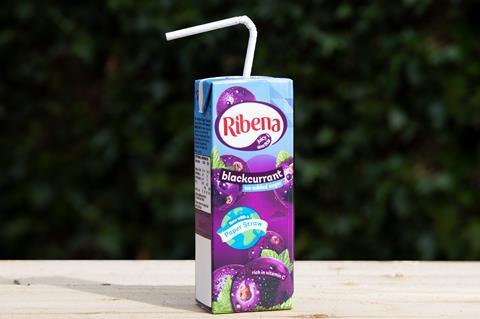 Ribena has permanently ditched plastic straws.
The soft drinks brand has stopped manufacturing plastic straws for its Ribena cartons, and has replaced them with 100% recyclable paper ones.
The paper straws were first trialled in Tesco stores in spring 2020, but have now rolled out fully across Ribena's range.
Owner Suntory Beverage & Food GB&I said the move would slash up to 16 tonnes of plastic from the supply chain per year.
The plastic straws being used by the brand were recyclable, but faced difficulies "largely due to their size", said SBF. "If people don't push the straw back into the carton when finished, it can get lost in the recycling process, often falling through gaps on recycling centre sorting bells."
The brand was now working "to develop a hygienic wrapper for the new straws from alternative materials that will still stand up to the rigours of rucksacks and refrigerators", it added.
The soft drinks giant plans to have moved its entire portfolio to "100% sustainable packaging" by 2030.
Supermarkets and brands "need to work together to remove and reduce unnecessary and excessive plastic, reuse more, and make sure everything that's left is recycled," said Tesco head of packaging James Bull. "Our door remains firmly open for other brands who want to test and learn new ways to use less plastic."
It follows a £1.6m relaunch for Ribena in November 2020, which saw the drink given new 100% rPET bottles with their plastic sleeves reduced by 50% – making them easier to detect within the UK's existing recucling infrastructure.