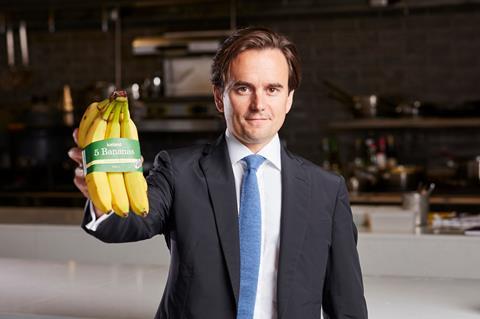 Iceland may not achieve its target of eliminating plastic from own-label packaging by the end of 2023, its MD has acknowledged.
Richard Walker made the revelation as the supermarket announced a new initiative to "offset its entire remaining plastic footprint" by recovering waste plastic from the environment.
The offsetting will mean recovering and recycling "nature-bound waste plastic" equal in weight to Iceland's total plastic consumption from 2022, according to the frozen food specialist.
Iceland set its end-of-2023 target for eliminating plastic from own label at the start of 2018.
"Three years on, our pledge to become plastic-free across our own range remains ambitious," said Walker. "Plastic use and waste has increased through the pandemic and we are just one business challenging the $580bn global plastic industry. However, we are privately owned and can be agile, so we have decided to invest our own money to become permanently plastic-neutral as we progress to becoming plastic-free.
"Whilst we may not achieve our target by the end of 2023, due to setbacks caused by the pandemic and lack of commercially viable innovation, we remain focused on our target and will not stop until we have delivered what we set out to."
Since 2018 Iceland has trialled alternative packaging solutions on scores of lines, either reducing the plastic needed or eliminating it entirely.
However, speaking to The Grocer last month, Walker expressed frustration that technological packaging advancements weren't coming faster. "We've made big progress but of course Covid has undermined some of that," he said. "We're having to double up our efforts, investment and focus on it.
"It's slightly disappointing the government hasn't introduced more robust plastic reduction targets to level the playing field. It's slightly disappointing technological advancements haven't come on stream quite as fast as we would have liked.
"Covid's been interesting. A lot of people quite liked the sterile nature of pre-plastic packaged goods. They didn't really want to rifle through loose fruit & veg or whatever it might be."
The supermarket is partnering with Seven Clean Seas, a plastic offsetting service, to fund the recovery of waste plastic for recycling, using community collections and "environmental interception". The project will focus on developing countries with the highest waste leakage, according to Iceland.
Announcing the initiative today, Walker said Iceland's suppliers were also being asked to sign up and urged other supermarkets to do the same.
"We all know that, in the long term, the industry cannot recycle or offset its way out of the plastic crisis and, while we remain firmly fixed on plastic reduction, this is another important milestone in our journey to becoming plastic-free," he said. "I would ask our other supermarkets to urgently consider becoming plastic-neutral as they too look to turn down the tap on plastic production altogether.
"Between 1950 and 2017 the world produced 9.2 billion tonnes of plastic, of which seven billion tonnes have become plastic waste. To address this huge global challenge, we are asking every Iceland supplier to join our initiative in order to magnify the scale impact that we can achieve.
"At the same time, we want to see a standardised international system of accounting and crediting to ensure the future integrity of nature-bound plastic recovery and offsetting."