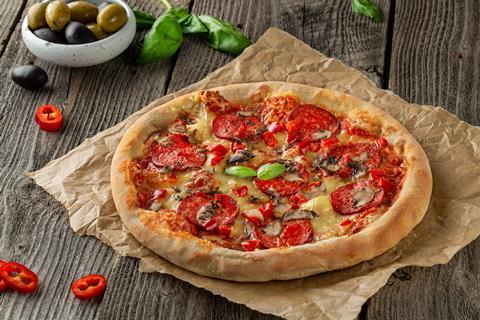 Romanian plant-based brand Verdino Foods is bringing its frozen range to the UK.
The range is made with pea protein and includes pizzas, burgers, sausages, veggie balls and mince (rsp: £2.75-£3.50/200g-370g).
The pizzas, which it claimed were the "first truly meaty" plant-based offerings of their kind, were forecast to be the best-sellers in the range, it said.
They will be available with five different toppings, including plant-based alternatives to pepperoni, bacon and tuna.
The range was aimed at both plant-based consumers and those who are looking to cut their meat and dairy consumption, said the brand, adding the range was rich in fibre and protein, GMO-free, lactose-free, soy-free and vegan certified.
They will initially be sold DTC via the brand's website "to create demand and loyalty before generating listings in grocery retailers", said Verdino.
Verdino country manager for the UK & Ireland Ian Bailey said: "UK consumers account for 40% of the European meat substitute market so the time is absolutely right for Verdino to launch."
The launch of a chilled range would follow, he added.
It's the latest in a swathe of moves in the hectic plant-based category over recent weeks.
This week, Israeli food tech company Redefine Meat has confirmed it will launch its range of 3D-printed vegan meat alternatives in the UK before the end of the year.
Earlier this month, Kraft Heinz applied to register the name VBQ as a trademark under class 29, covering vegetarian and vegan sausages, burgers, meatballs and nuggets.
In June, Monaghan unveiled its new vegan brand The Mighty Mushroom Co, which was designed to appeal to consumers seeking out sustainable plant-based options.