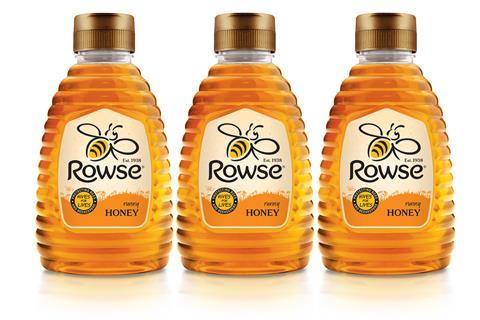 Rowse Honey is ditching its black caps in a bid to make its packs 100% recyclable.
The honey brand plans to have swapped the caps for new, recyclable gold ones by the end of 2021 – a move it claims will remove 100 tonnes of black plastic from its supply chain per year.
Black plastic is notoriously difficult to recycle because it is coloured using carbon black pigments, which cannot be sorted using the Near Infra-red technology commonly used in plastics recycling.
The brand also plans to ramp up the amount of recycled plastic used in its bottles, and has set a target of 30% across its range of honey SKUs this year. It said this could remove a further 135 tonnes of virgin plastic from its supply chain.
Slashing plastic and limiting its environmental footprint was a "key part of our sustainability strategy and highly complementary with our commitment to promoting biodiversity and protecting the bees who make our 100% pure and natural honey", said Rowse marketing director Kirstie Jamieson.
Rowse – the UK's biggest honey brand – mounted a major challenge to Nutella earlier this year with a move into chocolate spreads.
It unveiled ChocoBee, a spread made from a combination of honey and sustainable cocoa, in February, marking its first foray out of the honey category and into wider spreads.