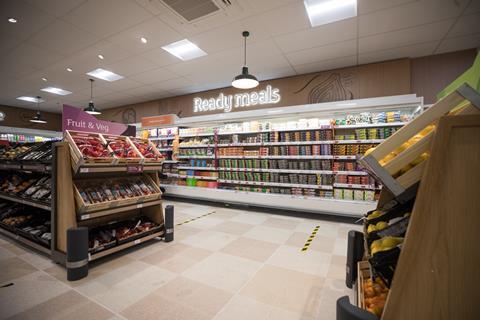 The full range of a Sainsbury's store in Cockermouth is available to purchase for rapid delivery via website HyperLocal.
Residents within an 8km radius of the market town in Cumbria can select from thousands of the store's SKUs on the HyperLocal site, with orders picked by personal shoppers and delivered within as little as 20 minutes.
HyperLocal is the brainchild of software engineer Ross Walker, who launched it during the first lockdown last year. His local Sainsbury's is the first to be listed on the website, with smaller independent food retailers being added in the coming months. Although not officially endorsed by the supermarket, the startup has the support of the Cockermouth store's manager.
"Sainsbury's have got ChopChop which is rolling out further, but we're focusing on rushed delivery in more rural areas," said Walker. "Ultimately it's providing the supermarkets with a service they don't already have, particularly in smaller towns."
Sainsbury's product range is taken by HyperLocal from the supermarket's e-commerce site, and availability cross-checked at the Cockermouth store. Delivery fees are based on the distance from the store to the customer, and the total number of items ordered.
"We're trying to do it as reasonably as possible for the consumer," said Walker. "We're going to run the supermarkets initially as a loss leader. The profit comes from onboarding a whole town's worth of independent food retailers."
The startup – which has secured Innovate UK grant funding – is now developing tools to make it possible to quickly bring smaller retailers on board.
Walker said the company's biggest future competitors were Instacart in the US and Irish startup Buymie, which launched in Bristol in May last year. Buymie has an official partnership with the Co-op, but also lists Asda and Tesco products without the supermarkets' backing.