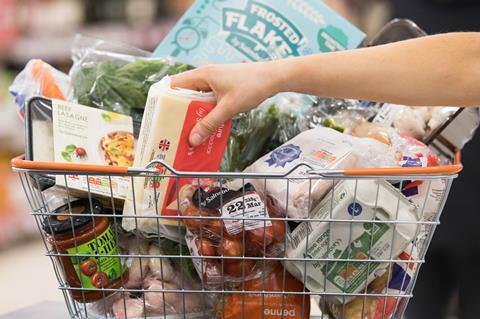 Sainsbury's launch this week of an 'Aldi Price Match' campaign has been widely interpreted as a defensive strategy aimed at Tesco rather than the discounter.
Aldi itself was among those to view the move as an answer to Tesco's campaign of the same name rather than a serious challenge of discounter prices on a basket of shopping.
Sainsbury's surprise move on Wednesday saw it claim about 250 of its staple products now matched equivalent Aldi items on price.
The products span a range of categories, including fresh produce, meat & veg, frozen and toiletries. In some cases, prices have been pro-rated to reflect different pack sizes and product weights.
Examples include 1.5kg of By Sainsbury's plain flour, which the supermarket said had been reduced from 80p to 45p, to "match" Aldi's The Pantry Plain Flour. By Sainsbury's 2 Smoked Basa Fillets 240g had been dropped by 11p to £2.39, with Aldi's The Fishmonger 2 Boneless Smoked Basa Fillets as the claimed equivalent.
In response, Aldi was examining each of the comparisons while noting the campaign's similarities with Tesco's, launched last spring, down to the exact wording, which features on in-store signage.
The discounter said it saw Sainsbury's move as a bid to persuade customers who have seen the wording in Tesco that it can rival the country's biggest supermarket on value, rather than Aldi itself.
Aldi pointed to the margin between itself and Sainsbury's in independent comparisons, including The Grocer's, as evidence shoppers would not be convinced of price equivalence between the two. "Every single price analysis, including the Grocer 33, proves that an average shop at Sainsbury's is at least 20% more expensive than at Aldi and this won't change," said an Aldi spokesman. "Shoppers know that the only place you can get Aldi prices is at Aldi."
Analysts also view it as targeting Tesco, with Retail Remedy MD Phil Dorrell saying Sainsbury's was "playing catch-up".
Shore Capital analyst Clive Black was doubtful shoppers would be convinced Sainsbury's was a value-driven retailer but said it was "no doubt hoping for enhanced value credentials through this – a similar outcome to Tesco".
Shopfloor Insights director Bryan Roberts said: "It is a follower rather than a trailblazer here and that might dull some of the impact."
Sainsbury's said the campaign was focused on delivering value for customers without sacrificing the quality they expected.
The last Grocer 33 in which Aldi featured, in December last year, found it to be 20% cheaper than Sainsbury's. A basket of 33 products came to £48.23 at Aldi compared to £60.54 for an equivalent shop at Sainsbury's, which was the most expensive of the big four and cheaper only than Waitrose in the test.
However, subsequent Grocer 33s have found Sainsbury's to be making up ground on its big four rivals. This week's analysis – which does not feature Aldi – finds Sainsbury's to be second cheapest after Asda.
Tesco's Aldi Price Match campaign runs across about 500 individual products.